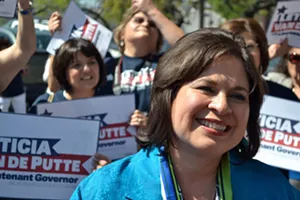 1. Leticia Van de Putte
State Senator, District 26, vandeputte.senate.state.tx.us
She ain't happy with the political direction of Texas. But I bet choosing her as Best State Congressperson/Senator is sure to cheer LVDP right up. After more than two decades serving the Texas Legislature, the Democratic state senator from San Antonio, Leticia Van de Putte, launched her ambitious bid for Texas lieutenant governor in November right here in SA. And as the bold, sharp and not to messed with state senator takes the fight statewide, locals can attest to her sticking up for military families, veterans, students, middle class families, immigrants and women.
2. Mike Villarreal
State Representative,
District 123, house.state.tx.us
3. Trey Martinez Fischer
State Representative,
District 116, house.state.tx.us