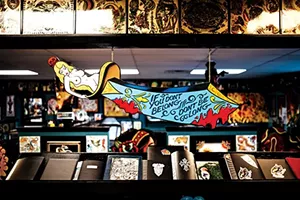 Our Pick: Element Tattoo
, 4741 Fredericksburg Road, (210) 979-9877,
elementtattoo.com
After surviving a fire in 2009, Element Tattoo rebuilt and grew into a powerhouse studio that employs about a dozen of the Alamo City's best artists – heavy-hitters like Sweet Lorraine, Kelly Edwards and Justin Martinez. Element is the brainchild of Jedidiah Reed (or Jedi, as people usually call him), who learned how to tattoo in Corpus Christi under Texas tattoo legend Bruce Edwards. While Element houses artists for virtually every style or design (from big, traditional Americana-themed pieces to portraits), Jedi has turned the place into South Texas' go-to spot for huge, traditional Japanese-inspired sleeves, back pieces and body suits. And lucky enough for all of us, Jedi and his stable of skin-art masters happily take walk-ins.