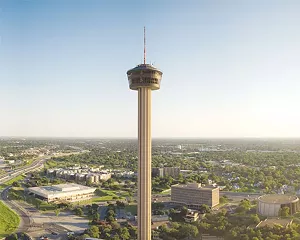 1. Tower of the Americas
601 Tower of the Americas Way, (210) 223-3101, toweroftheamericas.com
Only the Alamo rivals the Tower of the Americas as San Antonio's most recognizable symbol. The 750-foot-tall tower (the city's tallest) features the revolving Chart House restaurant (complete with a solid international selection of wines), the $8.95-$10.95 Observation Deck (children under 3 enter free), and the 4D Theater Ride (included in the tower ticket, it features scenes about life in Texas). It may not be as tall and fancy as the Eiffel Tower, but, dammit, it's our tower, and definitely one of the places you need to visit before you die.
2. Inspiration Hills
Inspirationhills.net
3. Hays Street Bridge
Hays Street, between Austin and Cherry Streets