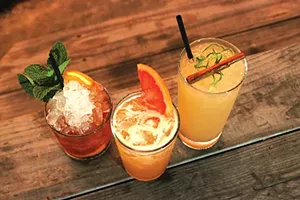 Our Pick: High Street Wine Company, 302 Pearl Pkwy., Suite 104, (210) 908-9144, highstreetwine.com

Wine bars have not had an easy time of it in San Antonio — especially pure-play operations not depending in large part on extensive food offerings. And then, along comes High Street at Pearl.
The handsome, smartly run bar is the brain child of business partners Mark Stoltz and Scott Ota. Stoltz seems to stay mostly in the background, but deceptively boyish Ota, with "best sommelier" awards ticked off on his resumé, is ever-present; managers and "beverage leaders" Laura Atkinson and Eric Ferrell add additional wine-savvy creds; and other staffers (Clayton, Ed, Eric, John, Vincent) can be counted on for unfussy advice-with-a-smile. I'd be smiling, too, with a wine list as fun to work with. By-the-glass selections change frequently, and you can rest assured that there will be some unknowns — "I like to have at least one geeky wine in every category," says Ota. Bottles from the glassy cellar are available to take home or consume there. And the limited but well-curated bar snacks are just interesting enough to keep you in your seat drinking. See you there. Seriously.