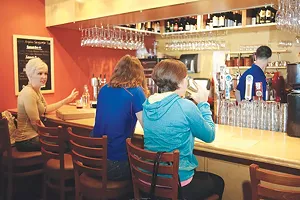 Dough Pizzeria Napoletana
6989 Blanco, (210) 979-6565, doughpizzeria.com
This is by now a familiar theme, but the best wine list is not necessarily the biggest or the one most dressed to impress; if that were the case then steakhouse stalwarts such as Bohanan's, Morton's and Fleming's would be considered tête de cuvée. No, for dyed-in-the-wool winos, the best list is the one most carefully calibrated to the restaurant's food, that most explores a region (or regions) in depth and that has a range of non-knee-jerk offerings at several price points. Minnie's Tavern and Sandbar are both good candidates, but today's winner is, ta-dah: Dough. The list ranges from skittish young frizzantes in both white and red to elder-statesman offerings such as a $310 Amarone. By-the-glass selections start at $8, a floral falanghina from Campania can be had at $40 a bottle and a lusty red from volcanic soils around Sicily is yours for $32. Bello.