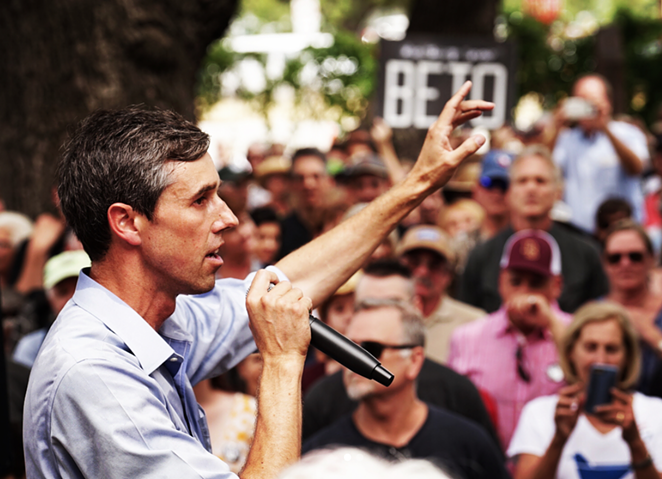 El Paso (D) representative Beto O'Rourke is currently campaigning in San Antonio and will host a town hall on education at the
Carver Community Cultural Center
at 6:30pm on Tuesday. In addition, O'Rourke will also host a town hall on veteran issues Tuesday at 10 a.m. at the
Scottish Right Library and Museum.
In light of recent developments facing the Texas Senate race last week, the Democratic campaign is forging on with the canvassing road trip around the state and subsequently, with
O'Rourke's iconic Facebook Live streams.
Incumbent Ted Cruz released his first
attack ads
against O'Rourke last Friday, citing his opponent was "more extreme than he wants you to know," criticizing O'Rourke's opposition to ICE and equating his anti-war-on-drugs platform with legalization of substances like heroin.
That same day, O'Rourke responded in a
video
on the defensive.
"They will tell you, because I want to end the war on drugs and end the prohibition on marijuana, that I want to do some terrible things like legalize crack cocaine and give your kids heroin," O'Rourke said. "Nothing could be further from the truth."
This political attack came on the heels of the release of a series of
polls
, penning Cruz anywhere between a narrow two to six points ahead of his opponent. In response to the turbulence, O'Rourke announced in a
video
Monday morning that his supporters managed to raise $1,274,528 over the weekend.
Early in his campaign, O'Rourke declared he would not accept any donations from PACS or corporations.
Stay on top of San Antonio news and views. Sign up for our Weekly Headlines Newsletter.