Photo credit: Oscar Moreno
Dane Rousay with implements.
Think of all the drummers you know. For most of us, we are thinking of friends who drum in local bands or ostensibly great celebrity drummers like Dave Grohl or Lars Ulrich or Travis Barker or fucking Tommy Lee.
Or, depending on your musical education, taste, and generation, perhaps you're thinking of Ginger Baker or John Bonham or Keith Moon or Neil Peart or Ringo—though even most casual listeners would probably agree that he totally doesn't belong in that sentence. Maybe (but, probably not) you're even thinking of genius jazz drummers like Milford Graves or Buddy Rich or Gene Krupa or Tony Williams or Art Blakey.
What likely doesn't come to mind, at least for the vast majority of folks, is anything or anyone like San Antonio drummer and composer
Dane Rousay
. That's because the young and impossibly gifted Rousay is a rare talent, with a rare ear, and a rare mind for music.
Rousay, who is a force (never
just a drummer
) in local bands The Freebiez, Baby Bangs, Jejune Stars, More Eaze, won't even turn 21 until May, but he's already amassed an impressive resume.
Now, on April 13, with several band/duo/solo projects (all experimental in varying degrees) on the near horizon, Rousay is
releasing his debut solo album
blip
. If you think solo albums are uncommon for drummers, you're not wrong. And, that's probably a good thing.
But, the avant-garde, largely-improvised,
blip
is a mind-bending example of the strange and surprisingly enjoyable territory that can be explored in the hands (and mind) of a percussionist like Rousay.
If rock drumming is comfort food, the eight songs on
blip
are like a plate of raw vegetables that you can't even name. That is to say: this shit is good for you, but you've got to want it.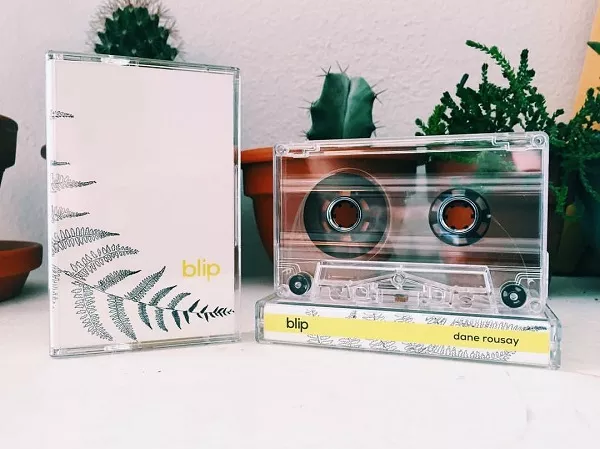 "blip" in its only physical form. Art by Grace Herndon
I spoke with Rousay over the phone last week to get an idea of how he works and just how he developed such a keen talent, technically speaking and in terms of compositional vision.
Rousay's mother, a piano teacher with a music theory degree, started him with various excellent piano teachers from the age of three. By the time he was fifteen, with the piano mastered, he had earned the right to play whatever instrument he wanted. His choice was drums, and in the five years since he has become the most inventive percussionists and one of the most inventive composers in town.
He explained that it was his first real experiences with jazz that opened his mind to the avant-garde and the improvisational. "Growing up playing music that wasn't improv, then hearing jazz, was an eye opening experience," Rousay said.
From jazz, Rousay developed a love for "making choices on the fly and thinking of composition from a position of reacting to chance." Using various non-traditional instruments (like bowls and pots and pans), as well as a drum kit, Rousay created
blip
with the help of a surprising non-human collaborator.
He explained that he set up a random barrage of slides in iMovie, each indicating a different implement of percussion, and he would react as fast as he could and try to keep up. Some of the pieces on the album came about that way, and others were partially written, before being played in an exploratory and improvisational manner.
The prolific Rousay, who, like one of his big influences John Cage, has come to use a combination of choice and chance in his work, said that people looking for a way into appreciating his music could look to jazz greats like Miles Davis or John Coltrane. He explained that these illustrious stylists and their bands "provide a good way in because they use set melodies and harmony, but also have improvisation within that."
You can get his self-released debut album in the gorgeous tape format you see above at the release show Thursday at Imagine Books and Records, and listen below for a preview.

Dane Rousay Tape Release feat Adipsia, Porridge Fist, James Cameron Taylor, Joseph Erik Montaño
$5.00, 8:00pm, Thurs, April 13, Imagine Books and Records, 8373 Culebra Rd, (210) 236-7668, imaginebooksandrecords.com.