Dan Payton
Boiler House Texas Wine & Garden
At the risk of heartburn, indigestion and almost birthing several burger babies, we've compiled a list of patties we're digging and which we think you shouldn't miss. Be it classic, greasy iterations, health-conscious alt-burgers, fast and furious craving-busters or fancysauce variations with more rich aioli and cheese sauces than we could possibly muster, we tasted them all. And so we share with you our love of the top burgers with odes and haikus to fresh-baked buns and everything that goes between them.
Here are our #burgergoals. — Jessica Elizarraras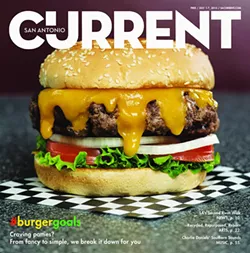 Fancy Sauce
Alchemy Kombucha and Culture
1123 N. Flores St., (210) 320-1168, alchemysanantonio.com
Much like the people behind Alchemy — which combines first-time restaurateurs and kombucha-makers, upscale cocktailians and untamed chefs — the Traphouse burger brings together several key ingredients that deliver a harmonious chomp. Featured on both late night and lunch menus, the Traphouse comes together with a hefty half-pound brisket-chuck patty, a sinful and top secret cheese sauce, a rough chop of iceberg lettuce, red onions and tomato, sandwiched between toasty and pressed buns. Prepare to destroy your cloth napkins and banish any semblance of neat eating: the Traphouse is serious — and delicious — work. — Jessica Elizarraras
Boiler House Texas Wine & Garden
312 Pearl Pkwy., Bldg. 3, (210) 354-4644, boilerhousesa.com
Chef Jeff White knows burgers and though he might not have a degree in architecture (that I know of), the big cheese at Boiler House is prone to building structurally sound, but insane, burger creations. Take for instance my latest fave, the Jackie Treehorn, a marvel of a burger that asks, "why not?" Made with a thick short rib-blend patty, this sando combines cured and whipped foie gras with peanut butter and green tomato habanero jam — don't forget the fried egg — for a truly impressive bite. It's messy, it's playful, it's sexy and it's definitely shareable (but we won't judge if you don't). At Boiler House, White definitely abides. — Jessica Elizarraras
The Cookhouse
720 E. Mistletoe Ave., (210) 320-8211, cookhouserestaurant.com
Technically, this sando qualifies as a po'boy, but let's not split hairs. Made with 30 percent ground mushrooms and 70 percent grass-fed local Wagyu beef, the dish serves as chef Pieter Sypesteyn's entry into a James Beard Foundation's social media-driven Better Burger Project competition. Rounded out with house-made pickles, arugula pesto and a gob of Gouda cheese on a Gambino's Bakery baguette, The Cookhouse's better burger is yours for the taking 11 a.m. to 2 p.m. Tuesday through Saturday. Vote for it by uploading a photo to Instagram, using the hashtag #BetterBurger and tagging @WhereYatSA to help send Sypesteyn to the James Beard House. – Jessica Elizarraras
Cullum's Attaboy Burgers
Multiple locations, alamostreeteatbar.com
Chris Cullum has perfected the burger — yeah, we said it. Found at both Tucker's and Alamo Street Eat Bar, the bacon cheeseburger is made with fresh, golden brown baked buns, hand-ground beef, crispy pickles and a secret sauce so good that Mondo Burger would try to steal the recipe. It's the combination of great ingredients and Cullum's love for delicious food that makes this classic summer sandwich stand out from the rest. Vegetarians, fear not: Attaboy also features a veggie burger that is equally as mouthwatering (and won't have you feeling as guilty about breaking your summer diet the next day). Ask about the burger du jour if you feel like mixing it up. Pair with French fries or sweet potato fries and you're in burger heaven. — Ainsley Caffrey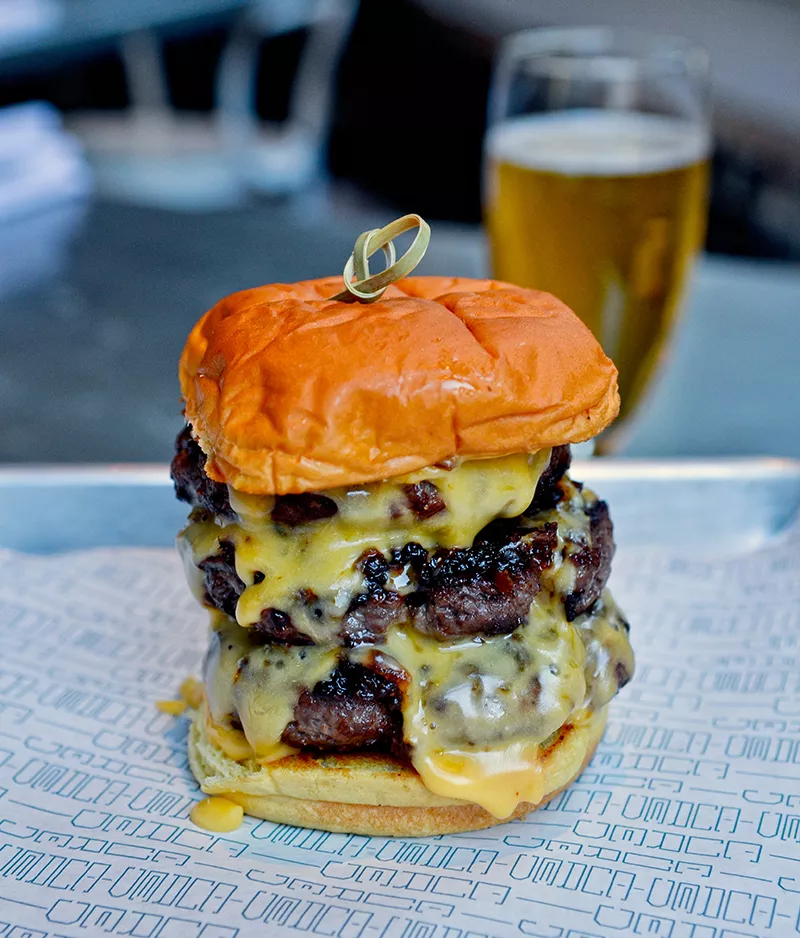 Courtesy
Cured
Cured
306 Pearl Pkwy., Suite 101, (210) 314-3929, curedatpearl.com
It kills me inside to see a perfectly seasoned and cooked ribeye doused in "house made artesian free range A1 steak sauce." Just salt and pepper me, baby. Quality ingredients are the name of the game and Cured hit the nail on the head with its Blue Ribbon Burger: well constructed while letting its individuality shine through. I would call the burger simple — not to be confused with plain. The patty, made from a bacon/ground beef blend, has an agreeable thickness and is juicy without making my bun a sloppy disintegrating mess. The well-balanced flavors were not at all overpowered by the onion jam, which was a perfect mixture of sweet and peppery. The pièce de résistance was the "Blue Ribbon Cheese," an artful blend of American and smoked Gouda cheeses with Pabst Blue Ribbon beer for a little extra depth. —Amanda Bianchi
The Esquire Tavern
155 E. Commerce St., (210) 222-2521, esquiretavern-sa.com
Since reopening its doors in 2012, Esquire Tavern has turned its burger into a downtown must-have. The latest menu gave us an homage to Mark "Wildcat" Garcia, punk rock chef at Alchemy (whose burger also made our list). Chef Brooke Smith combines organic beef, lettuce, grilled pineapple, habanero aioli, red pepper jelly, American cheese (the only cheese that should ever grace a burger) and nestles it into a Hawaiian bun. It's a sweet and spicy handful for those willing to get their hands a little dirty. – Jessica Elizarraras
Sara Luna Ellis
Folc
Folc
226 E. Olmos Dr., (210) 822-0100, folc-restaurant.com
Brunch at Folc means one of two things: taking in a classic American breakfast with tasty biscuits and such, or facing down its lamb burger (the moniker might be a bit misleading as this seven-ounce patty mixes 80 percent house-ground lamb and 20 percent fatty brisket, to juicy results). Not one to be content with serving one of the most enticing blends in town, chef Luis Colon embellishes the burger with house-made everything — bread and butter pickles, ricotta, red onion marmalade and pillowy buns — and a gooey egg to seal the deal. The eatery's also serving this number at lunch if you're feeling brave. — Jessica Elizarraras
Dan Payton
Southerleigh
Southerleigh Fine Food & Brewery
136 E. Grayson St., Suite 120, (210) 455-5701, southerleigh.com
The latest burg' on the block comes via Jeff Balfour and his team at Southerleigh, where all sorts of buns are made in house to winsome results. First showcased at this year's Burgers & Beers, the small, but mighty sandwich starts with beef out of 44 Farms (in Cameron, Texas), layered with bacon jam (because strips are pedantic, natch), cheese and their homemade pork fat bun. Gather up your closest bros and toss it back with Southerleigh's Darwinian IPA or call it a day and take in an 8-beer flight and a game of darts — you earned it. — Jessica Elizarraras
Dan Payton
Zinc
Zinc Bistro & Wine Bar
207 N. Presa St., (210) 224-2900, zincwine.com
As someone who frequently writes about fancy food, I try to make peace with pricey patties crowned with slabs of foie gras. No luck there. The sweet spot lands somewhere north of mid-ground: not too tony, but not cranked out by the crapload, either. Hence the Zinc Burger — or the "crack burger," as its presumably addicted aficionados call it. As an added benefit, all the component decisions are made for you. The smoky cheddar adds umami, the parmesan tuile provides cheesy crunch, bibb lettuce is way better than iceberg, the house-made spicy tomato aioli is head and shoulders above Heinz and the bun has just enough cuerpo to hold up until the juicy end. As a bonus, the house fries are also exemplary — and take well to anointing in aioli. – Ron Bechtol
Fast & Furious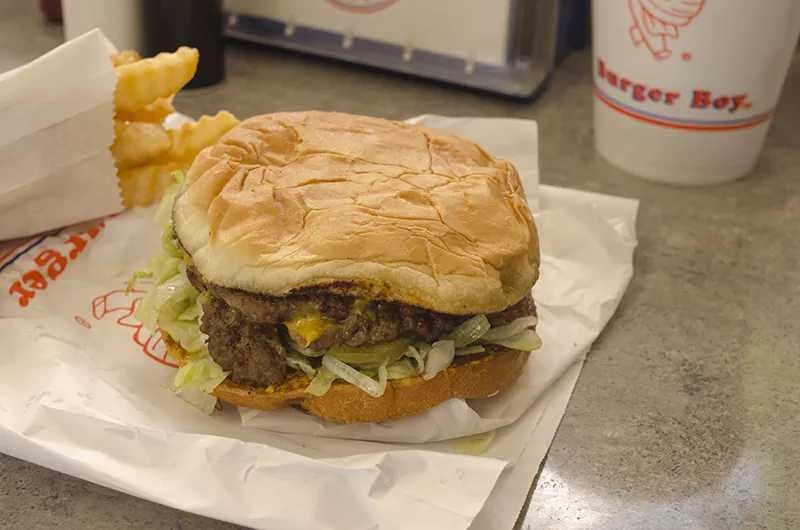 Sara Luna Ellis
Burger Boy
Burger Boy
2323 N. St. Mary's St., (210) 735-1955
The North St. Mary's Strip is renowned for its many venues and restaurants, but perhaps none are more iconic than Burger Boy and its signature rotating sign. The restaurant, which has remained largely unchanged since its 1985 opening, couldn't be better represented by anything other than its own 278-bulbed orange marquee. Every year the Spurs make the playoffs, every day the sun rises and every second the Burger Boy sign keeps spinning. Just like the restaurant continues, day after day, to produce the same menu it has always has offered in the same no-frills style stand they've had since its conception. Staples of the tangerine burger angel include the Bates Special, which comes with a quarter-pound burger, small fries and a soft drink, as well as the Working Man Special, which includes a half-pound burger, a half-pound of fries and a drink. — Sebastian Oates
Freddy's Frozen Custard & Steakburgers
Multiple locations, freddysusa.com
San Antonio's rivalry between Whataburger and In-N-Out Burger distracts us from acknowledging which franchise actually has the best fast food burger in town. That would be the bacon and cheese double Steakburger at Freddy's. This 'burguesa includes two made-to-order patties sandwiched between two butter-toasted buns with bacon, cheese, two slices of deli-style pickles — the real kind, not the sad, limp kind — plus onion slices and a tangy smattering of mustard. Order this sandwich with Freddy's signature shoestring fries and one of its deliciously thick concrete shakes — and a Chicago-style hot dog, if you're nasty — and you'll end up asking yourself: "In-N-Out and Whataburger, who?" — Albert Salazar
Courtesy
In-N-Out Burger
In-N-Out Burger
Multiple locations, in-n-out.com
When the California chain spread south, lines of cars began to pile and never really stopped. The virtues of In-N-Out are its simplistic, no-gimmick menu and the consistency of its product. The actual menu only contains six items: hamburger, cheeseburger, double-double, shakes, fries and beverages. If you want to throw simplicity out the window, you can try their "Not So Secret" menu and get your burger double-wide as a 4x4 (four patties and four slices of cheese) and your fries "animal style" with extra house sauce. In-N-Out is also a good option if you're on a budget. Its hamburger combo, for example, with fries and a medium drink will run you $5.35. Can't argue with that. — Felicia DeInnocentiis
Courtesy
Whataburger
Whataburger
Multiple locations, whataburger.com
I'm sure I made the most pedestrian choice on this list, but real talk: for the two years I lived as a Texpat in Atlanta, the only thing I talked to strangers more about than Whataburger was the Alamo. In the same way that other Southerners swapped "fiddin'ah" for "fixin' t'" and served ice tea sweet by default, the ubiquity of Waffle House's alphabet-block logo instead of that iconic Whatafont "W" was mildly disorienting. I love gourmet burgers as much as the next carnivore, but there were nights I would have traded a dozen steak-tartar-and-pickled-shallot burgers for a No. 2 combo. Back now in The Greatest State, I keep it simple: two buns, double patties and a slathering of yellow mustard. No vegetables or cheese, just the Lone Star satisfaction of meat, bread and God's own condiment. Pair with Shiner Bock and Doug Sahm. – Lance Higdon
Homestyle
File Photo
Big Bob's Burgers
Biff Buzby's Burgers
121702 Toepperwein Rd., (210) 590-2040, www.biffbuzbys.com
Biff Buzby's Burgers prides itself on mystery, aviation and burgers. When you walk into the restaurant, you see the wall is covered with stories written by patrons, each detailing what they think happened to the mystifying fighter pilot, the restaurant's namesake. While his whereabouts remains an enigma, there's no mystery as to why this joint is worth a visit. For starters, there's a classic car show every Friday night. Now that's a bit more than fries to go with your burger. Go for the chili cheeseburger, a half-pounder topped with cheddar, grilled-onions and, of course, Biff Buzby's house chili. All of these tasty ingredients are then sandwiched in between two of Biff's homemade sweet buns. Even sweeter: Free pinto beans with every meal. 'Nuff said. — Sebastian Oates
Big Bob's Burgers
Multiple locations, bigbobsburgers.com
Not to be confused with FOX's Bob's Burgers, Big Bob's Burgers is the embodiment of owner Bob Riddle (albeit slightly muted). The larger-than-life chef has carved out a niche for himself and his company by consistently delivering solid burger choices at decent prices at his three locations throughout SA: Santa Rosa, Hildebrand and 1604 at Lockhill. The chargrilled patty is made that much better when morphed into the 50/50, part bacon, part beef chuck with a generous dose of cheddar. The fixins are always fresh and if your experience is less than amazing, Riddle, who personally checks each table, makes it a point to right every wrong. Now, that's big time. – Jessica Elizarraras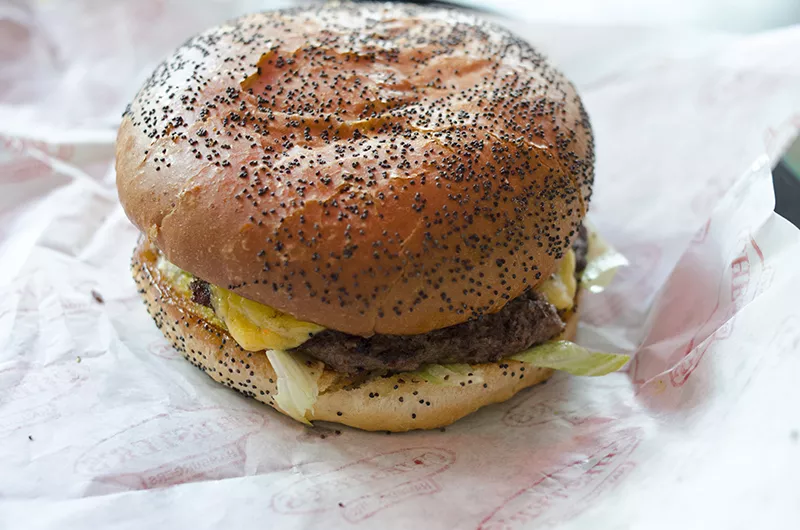 Sara Luna Ellis
Chester's
Chester's Hamburgers
Multiple locations
So many burgers vie for the attention of the Alamo City's appetite that it's easy to forget an old standby, especially if you are a dweller of Inner Loop Land. Chester's Hamburger's three North Side locations — I-10 and Wurzbach, Loop 410 and N. New Braunfels and 281 North near Hollywood Park — offer a no-frills burger menu that's always there when you need it. They may not make the best burger in the city, but they're made-to-order and always reliable. The poppy seed buns, which may or may not have made them all the more addictive, are finally back. That means Chester's will always be worth a visit, not only for its namesake offering but also for its hand-cut fries and bottled beer selection. Be sure to try the green chili bacon cheeseburger. Yes, it's a little messy, but so are so many truly good things in life. — Albert Salazar
Courtesy
Fattboy
Fattboy Burgers & Dogs
Multiple locations, fattboyburgers.com
The name might turn away the calorie-averse, but if you've got a hankering for a full-bodied and extremely customizable burger, Fattboy Burgers & Dogs should be high up on your list. Whether you're visiting the original and quaint Dellview location off Vance Jackson, or the sleek and modern Huebner Road spot, the burgers continue to wow. You can't go wrong with the half-pound, made-to-order Fattboy lunch special ($9 with fries and a drink), where your only limitation is your imagination when it comes to how you'll dress your burger-beast. Keep it low-key and plain or load up on toppings with your choice of dressings (ketchup, mayo, mustard, barbecue and relish), fresh-cuts (lettuce, pickles, tomatoes and onions) and grilled veggies (onions, jalapeños, 'shrooms and bell peppers). Then there's the add-ons of cheese, ranch, bacon, sauerkraut, avocado or chili. At Fattboy, you can have it your way — whichever way that may be. — Jessica Elizarraras
Courtesy
Mark's Outing
Mark's Outing (FKA Fatty's)
1624 E. Commerce St., (210) 299-8110
Mark's Outing has taken the home of the original Fatty's Burgers and More and upped the ante to create a sanctuary for bigger, better burgers. The buzzword is options at this burger joint, with menu choices that lean toward the unbelievable such as the Ice Cream Burger, which includes a — wait for it — heaping scoop of deep fried ice cream. For an even bigger burger option for those who like a challenge, the $20 two-pound Lineman Burger sits waiting for contenders. Whether it's avocado, barbecue or breakfast toppings, these gourmet burgers are sure to please — with options galore. — Felicia DeInnocentiis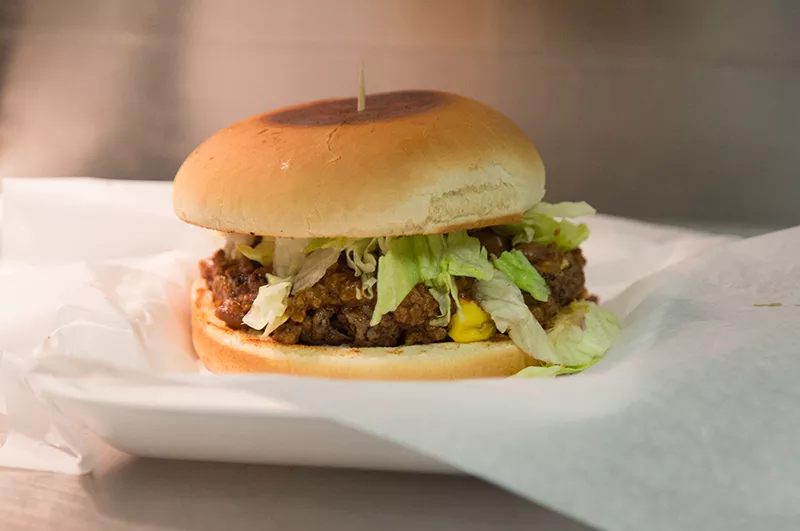 Dan Payton
Lord's Kitchen
The Lord's Kitchen
118 Seguin St., (210) 354-3888
Disguised as an Eastside hole-in-the-wall, this kitchen's holy mission is to serve hearty, down-to-earth burgers that can heal anyone's soul. Whether you want your burger beef, chicken, turkey or bean, there is definitely enough food to appeal to any palate. Ten bucks can go a long way here, with sides including grilled onion rings, fries on the greasy side, or chips and salsa. For an extra touch of southwestern flair, Mayor Ed's Mole Burger with house mole sauce could do the trick. Lord's Kitchen serves burgers with humility and plenty of flavor. — Felicia DeInnocentiis
Timbo's Burgers
1639 Broadway St., (210) 223-1028, timbosburgers.com
Though neighboring hipster magnets tend to draw a ton of attention (guilty as charged), Timbo's Burgers serves as a 12-year staple to the Broadway corridor. Named after owner Timbo Lang, a longtime employee of the original Little Hipps, which closed in 2002, the eatery delivers no-fuss burgers, with matter o' fact service, that begs for continued patronage. Locavores should know Timbo's hearty patties are delivered fresh from Bolner's Meat Market. Stop in for the bacon cheeseburger because they don't skimp on the tocino. Or take on a Yellow Submarine, a gigantic stuffed-burger that taunts you with its heft.— Jessica Elizarraras
Alt-Burger
Bryan Rindfuss
The Cove
The Cove
606 W. Cypress St., (210) 227-2683, thecove.us
Call me crazy, but ever since the Cornucopia Institute released its 2009 report "Behind the Bean" (which suggested 11 popular veggie burger brands were processing non-organic soy protein with neurotoxic petrochemical solvent hexane), I've been wary of veggie burgers. But I had no concern of ingesting hazardous pollutants at The Cove, which prides itself on serving local organic fare. The eatery makes a mean vegan patty that forgoes questionable ingredients in favor of brown rice, mushrooms and sunflower seeds. Although it only appears on the menu dressed up as a hearty vegan bacon cheeseburger (topped with house-made tofu bacon, cashew cheese and garden-fresh fixings), the honest little patty fares just as well as a beef substitute in the Egg Ceptional (a slightly messy creation thanks to a sunny-side up free-range egg) and the 09'er, which comes topped with goat cheese, pesto aioli and roasted red peppers. — Bryan Rindfuss
Vegeria Vegan Tex-Mex
8407 Broadway, Suite 1, (210) 826-4223, myvegeria.com
What good is ground beef, really, when you can have a patty of pinto beans, quinoa and sunflower held ever so gently by slices of homemade, gluten-free bread? That's right, people: there's an earthy alternative to the archenemy of your arteries, the cow burger. The Road Trip Burger at Vegeria is petite, healthy and vegan. It includes some usual suspects: tomato, pickle and spinach, but its real star is the coconut bacon. It's slathered on, crunchy, sweet and goes down as one of a few times we've been tricked into eating coconut. The curry ketchup adds some mouth tingle to the mix and a much-needed break from processed packets and bottles. — Melanie Robinson
#BurgerGoals: Even More Burgers To Try

Courtesy
Lost Bar



FANCY SAUCE
Bun & Barrel
1150 Austin Hwy.
(210) 828-2829
Try the Spicy Thai burger.
Feast
1024 St. Alamo St.
(210) 354-1024
feastsa.com
Try the Rib Eye burger.
Guillermo's
618 McCullough Ave.
(210) 223-5587
guillermosdowntown.com
Try the Chicken Bacon Ranch burger.
Longhorn Cafe
Multiple locations
thelonghorncafe.com
Try the Juicy Guacamole burger.
Lost Bar
12730 NW Military Hwy.
(210) 408-1662
Try the Chubby Melt.
Top Golf
5539 N. Loop 1604 W.
(210) 202-2694
topgolf.com
Try the Mac Daddy.
Tycoon Flats
2926 N. St. Mary's St.
(210) 320-0819
flatsisback.com
Try the patty melt.
FAST & FURIOUS
Courtesy
Smashburger
Fatso's
1704 Bandera Rd.
(210) 432-0121
fatsossportsgarden.com
Try the Trail Driver burger.
Five Guys
Multiple locations
fiveguys.com
Try the bacon burger with the works.
Joe's Hamburger Place
2423 Blanco Rd.
(210) 733-0542
Try the Joe's Original.
Smashburger
Multiple locations
smashburger.com
Try the truffle mushroom Swiss burger.
TJ's Hamburgers
2323 W. Southcross Blvd.
(210) 927-7331
Try the doublemeat burger.
HOMESTYLE
Jessica Elizarraras
Luther's
Armadillo's
1423 McCullough Ave.
(210) 226-7556
armadilloburger.com
Try the Fiesta burger.
Babe's
Multiple locations
babeshamburgers.com
Try the guacamole cheeseburger.
Big Lou's Burgers
2014 S. W.W. White Rd.
(210) 359-8015
Try the chili cheeseburger.
Big'z
Mutliple locations
bigz-burgerjoint.com
Try the Chili Queen.
Charlie Wants a Burger
223 Loysoya St.
(210) 227-0864
charliewantsaburger.com
Try the San Antonio Luau.
Che's Chicken and Burger
4303 S. Presa St.
Che's doublemeat cheeseburger.
Cheesy Jane's 4200 Broadway St.
(210) 826-0800
Try the Wurst burger.
Chunky's Burgers
4602 Callaghan Rd.
(210) 433-9960
mychunkysburgers.com
Try the Big Chunk.
Floyds Dairy Bar
1304 Goliad Rd.
(210) 532-3871
Try five-for-$3.25 burger deal.
Luther's Café
1422 N. Main Ave.
210) 223-7727
lutherscafe.com
Try the brisket burger on a pretzel bun.
Momak's
13838 Jones Maltsberger Rd.
(210) 481-3600
momaks.com
Try the Texas Monthly burger.
Highlander Bar & Grill
5562 Fredericksburg Rd.
(210) 340-4577
Try the cheeseburger with the works.
Uncle Barney's
7015 Interstate-35 Access Rd.
(210) 922-6602
Try the chili burger.
Willie's
Multiple locations
williesrestaurants.com
Try the Black N Bleu burger.
ALT-BURGER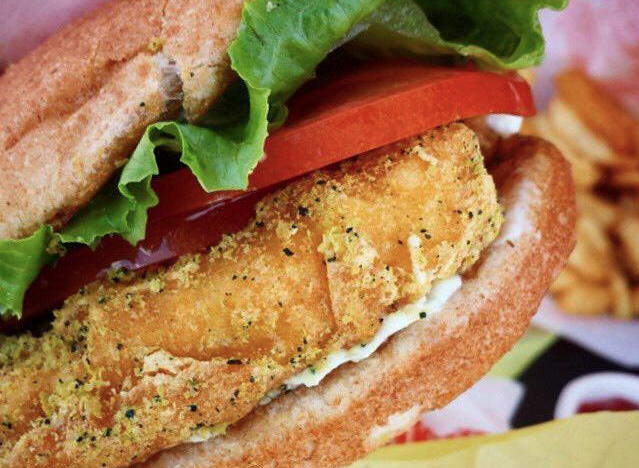 Courtesy
Earthburger
Earth Burger
818 NW Loop 410
(210) 524-1086
eatatearthburger.com
Try the Fish-less sandwich.
Friendly Spot
943 S. Alamo St.
(210) 224-2337
thefriendlyspot.com
Try the Edamame Jasmine veggie burger.
Green
Multiple locations
Eatatgreen.com
Try the portabello burger.
La Tuna
100 Probandt St.
(210) 212-5727
latunagrill.com
Try the garden bean burger.
L&L Hawaiian Barbecue
1302 Austin Hwy., Suite 1
(210) 474-6699
Try the Saimin burger.
OrderUp
999 E. Basse Rd., Suite 193
(210) 824-9600
orderup-sa.com
Try the Surfer Mahi burger.
Señor Veggie
620 S. Presa St.
(210) 228-0073
senorveggie.us
Try the SV burger.