Page 4 of 4
Alt-Burger
Bryan Rindfuss
The Cove
The Cove
606 W. Cypress St., (210) 227-2683, thecove.us
Call me crazy, but ever since the Cornucopia Institute released its 2009 report "Behind the Bean" (which suggested 11 popular veggie burger brands were processing non-organic soy protein with neurotoxic petrochemical solvent hexane), I've been wary of veggie burgers. But I had no concern of ingesting hazardous pollutants at The Cove, which prides itself on serving local organic fare. The eatery makes a mean vegan patty that forgoes questionable ingredients in favor of brown rice, mushrooms and sunflower seeds. Although it only appears on the menu dressed up as a hearty vegan bacon cheeseburger (topped with house-made tofu bacon, cashew cheese and garden-fresh fixings), the honest little patty fares just as well as a beef substitute in the Egg Ceptional (a slightly messy creation thanks to a sunny-side up free-range egg) and the 09'er, which comes topped with goat cheese, pesto aioli and roasted red peppers. — Bryan Rindfuss
Vegeria Vegan Tex-Mex
8407 Broadway, Suite 1, (210) 826-4223, myvegeria.com
What good is ground beef, really, when you can have a patty of pinto beans, quinoa and sunflower held ever so gently by slices of homemade, gluten-free bread? That's right, people: there's an earthy alternative to the archenemy of your arteries, the cow burger. The Road Trip Burger at Vegeria is petite, healthy and vegan. It includes some usual suspects: tomato, pickle and spinach, but its real star is the coconut bacon. It's slathered on, crunchy, sweet and goes down as one of a few times we've been tricked into eating coconut. The curry ketchup adds some mouth tingle to the mix and a much-needed break from processed packets and bottles. — Melanie Robinson
#BurgerGoals: Even More Burgers To Try

Courtesy
Lost Bar



FANCY SAUCE
Bun & Barrel
1150 Austin Hwy.
(210) 828-2829
Try the Spicy Thai burger.
Feast
1024 St. Alamo St.
(210) 354-1024
feastsa.com
Try the Rib Eye burger.
Guillermo's
618 McCullough Ave.
(210) 223-5587
guillermosdowntown.com
Try the Chicken Bacon Ranch burger.
Longhorn Cafe
Multiple locations
thelonghorncafe.com
Try the Juicy Guacamole burger.
Lost Bar
12730 NW Military Hwy.
(210) 408-1662
Try the Chubby Melt.
Top Golf
5539 N. Loop 1604 W.
(210) 202-2694
topgolf.com
Try the Mac Daddy.
Tycoon Flats
2926 N. St. Mary's St.
(210) 320-0819
flatsisback.com
Try the patty melt.
FAST & FURIOUS
Courtesy
Smashburger
Fatso's
1704 Bandera Rd.
(210) 432-0121
fatsossportsgarden.com
Try the Trail Driver burger.
Five Guys
Multiple locations
fiveguys.com
Try the bacon burger with the works.
Joe's Hamburger Place
2423 Blanco Rd.
(210) 733-0542
Try the Joe's Original.
Smashburger
Multiple locations
smashburger.com
Try the truffle mushroom Swiss burger.
TJ's Hamburgers
2323 W. Southcross Blvd.
(210) 927-7331
Try the doublemeat burger.
HOMESTYLE
Jessica Elizarraras
Luther's
Armadillo's
1423 McCullough Ave.
(210) 226-7556
armadilloburger.com
Try the Fiesta burger.
Babe's
Multiple locations
babeshamburgers.com
Try the guacamole cheeseburger.
Big Lou's Burgers
2014 S. W.W. White Rd.
(210) 359-8015
Try the chili cheeseburger.
Big'z
Mutliple locations
bigz-burgerjoint.com
Try the Chili Queen.
Charlie Wants a Burger
223 Loysoya St.
(210) 227-0864
charliewantsaburger.com
Try the San Antonio Luau.
Che's Chicken and Burger
4303 S. Presa St.
Che's doublemeat cheeseburger.
Cheesy Jane's 4200 Broadway St.
(210) 826-0800
Try the Wurst burger.
Chunky's Burgers
4602 Callaghan Rd.
(210) 433-9960
mychunkysburgers.com
Try the Big Chunk.
Floyds Dairy Bar
1304 Goliad Rd.
(210) 532-3871
Try five-for-$3.25 burger deal.
Luther's Café
1422 N. Main Ave.
210) 223-7727
lutherscafe.com
Try the brisket burger on a pretzel bun.
Momak's
13838 Jones Maltsberger Rd.
(210) 481-3600
momaks.com
Try the Texas Monthly burger.
Highlander Bar & Grill
5562 Fredericksburg Rd.
(210) 340-4577
Try the cheeseburger with the works.
Uncle Barney's
7015 Interstate-35 Access Rd.
(210) 922-6602
Try the chili burger.
Willie's
Multiple locations
williesrestaurants.com
Try the Black N Bleu burger.
ALT-BURGER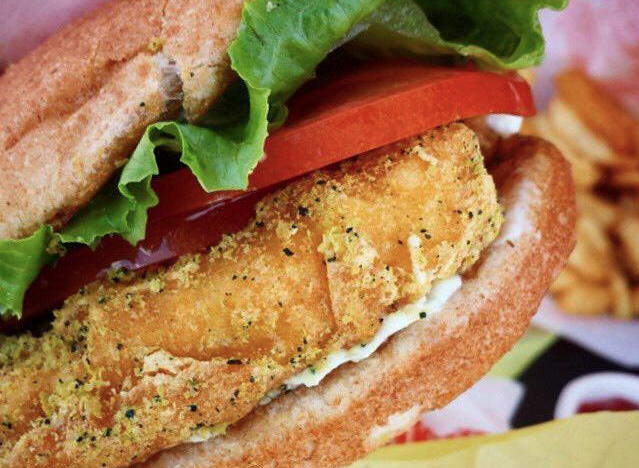 Courtesy
Earthburger
Earth Burger
818 NW Loop 410
(210) 524-1086
eatatearthburger.com
Try the Fish-less sandwich.
Friendly Spot
943 S. Alamo St.
(210) 224-2337
thefriendlyspot.com
Try the Edamame Jasmine veggie burger.
Green
Multiple locations
Eatatgreen.com
Try the portabello burger.
La Tuna
100 Probandt St.
(210) 212-5727
latunagrill.com
Try the garden bean burger.
L&L Hawaiian Barbecue
1302 Austin Hwy., Suite 1
(210) 474-6699
Try the Saimin burger.
OrderUp
999 E. Basse Rd., Suite 193
(210) 824-9600
orderup-sa.com
Try the Surfer Mahi burger.
Señor Veggie
620 S. Presa St.
(210) 228-0073
senorveggie.us
Try the SV burger.