In a shake up for incumbent Bexar County Judge Nelson Wolff, fellow Commissioners Court member Tommy Adkisson recently hopped in the Democratic primary race to
unseat his old friend
, surprising the long-time judge and setting off a battle among former allies. But it was clear during his official campaign kick-off Saturday morning, that he's not going into battle alone. Instead, Wolff is being backed by an impressive army of San Antonio-based political heavyweights, ready to lend their support to the unexpected race.
Bexar County Judge Nelson Wolff flanked by wife, Tracy, and Mayor Julián Castro. Photo by Mary Tuma
"I didn't look for this inter-party political fight, but when someone brings a fight to my door, they will find me at home—and they will find my friends standing with me," said Wolff during his re-election kick-off event.
And standing with him, they are. A cadre of  local, state and national pols and a sizable crowd of citizen supporters showed up in full force at Mi Tierra Cafe and Bakery downtown, including high-profile Dems like state Sen. Leticia van de Putte, state Rep. Mike Villarreal, Mayor Julián Castro and brother U.S. Congressman Joaquín Castro.
Van de Putte stressed the importance of the County's role as an agent of the state, saying Wolff was the right choice because "experience matters." (During his own speech, Wolff returned the favor, endorsing Van de Putte's recently announced run for lieutenant governor.) Mayor Castro lauded Wolff as "hard-working", "genuine" and "stellar" at moving the City and County forward, pointing specifically to Wolff's immediate support for the Pre-K 4 SA program (which, according to Wolff, "was no easy task.")
"I'm here for Nelson because I've had the opportunity to work with him over the last few years and watch him as someone who appreciated public policy," said Mayor Castro. "... Nelson has worked for the people."
While he didn't publicly speak, following the event, the Current asked Congressman Castro why he's backing Wolff. 
"I think he's been a steadfast and visionary leader who has taken on major projects in San Antonio and has really helped build momentum in our County," said Castro. "So I support him and his vision."
Who else joined the Wolff fan club—or as campaign staffers dubbed it—the "Wolff Pack"? City Council members Ron Nirenberg, Rey Saldana, Cris Medina, Diego Bernal and Shirley Gonzales endorsed Wolff and so did leaders of SA past, like former City Council members, state Rep. Phil Cortez and Mary Alice Cisneros as well as former San Antonio mayors Ed Garza, Henry Cisneros, Phil Hardberger and Howard Peak. Commissioners Court colleagues Paul Elizondo and Chico Rodriguez sided with the judge, making—what we can only imagine—the next CC meeting a teensy bit awkward. (Elizondo even took a subtle shot at Adkisson, saying that while a "solid team" on the Court are getting things done, "unfortunately, someone doesn't want to play on that team anymore.")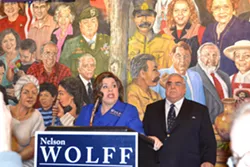 Before heading out to the Texas panhandle, state Sen. Leticia Van de Putte endorses Judge Wolff during his re-election campaign kick-off event. Photo by Mary Tuma
Wolff referenced his record,  like getting flood control systems going, the promotion of the nation's first all-digital public library, the ecological restoration of the San Antonio River Mission Reach and developing transit systems, including streetcar—a point of contention among his competitors. Both Adkisson and council member Carlton Soules, who is contesting Wolff in the general election as a Republican challenger, have come down on Wolff for "wasteful" legacy projects like the streetcar plan, as the Current reported in our December 23 issue. Wolff advocated for a federal Medicaid expansion (which GOP state leaders have denied), immigration reform and the promotion of equality when it comes to sexual orientation at the County-level.
"Bexar County needs to do a better job of enhancing equal opportunity training to include sexual orientation and gender identity issues," said Wolff.
The primary race election takes place on March 4 and the general election in November 2014. Stay tuned.