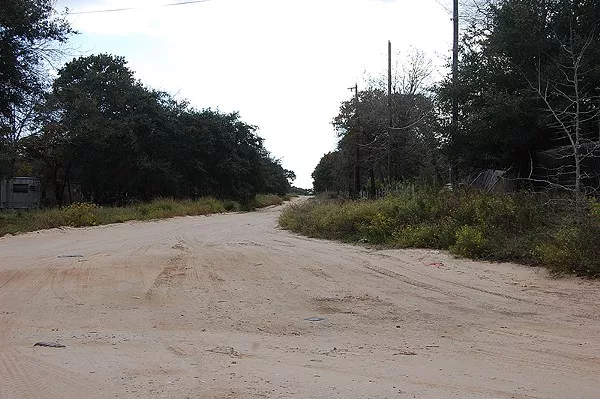 Michael Marks
The Bexar County Commissioners Court will look into paving roads like this one.
The Bexar County Commissioners Court will likely consider a measure on March 8 that would help repair roadways in some unincorporated communities with inadequate streets.
The issue has been on the court's radar recently because of
organizational efforts in Highland Oaks
, a subdvision in south Bexar County where streets are mostly made of sand. Vehicles frequently get stuck, and the conditions prevent emergency services, police, mail carriers and trash collectors from getting into the neighborhood.
Highland Oaks' streets are private, so they're ineligible for local public funds and many federal grants. Although the county was given quitclaim to the roads in 1990, first reported by the
San Antonio Express-News,
they were never accepted for public maintenance, and the county has claimed it does not own the roads and cannot perform any work on them.
But that could change soon. Bexar County Judge Nelson Wolff told the
San Antonio Current
that the court plans to hear a report on Tuesday, March 8 "outlining some issues in six, seven, eight neighborhoods" relating to inadequate streets, and what the court could do to improve them.
"We'll take action on [March 8]," Wolff said. "What we'll look at is a program that we'll phase in over years to address the most important ones from a public safety standpoint."
Wolff also said that the Highland Oaks subdivision would be "if not right at the top, then close to the top" of the list.
A report presented to the Commissioners Court on Tuesday, January 12 showed that 270 streets around the county — about 70 miles worth — were never accepted for public maintenance. Paving all of those streets would cost about $130 million.
It's unclear what sort of mechanism would be used to fund the road repairs. But the county would first need to somehow convert those roads from private to public.
The county estimated that paving all the roads in Highland Oaks would cost about $5.5 million. Constructing sidewalks and curbs would cost an additional $11 million.