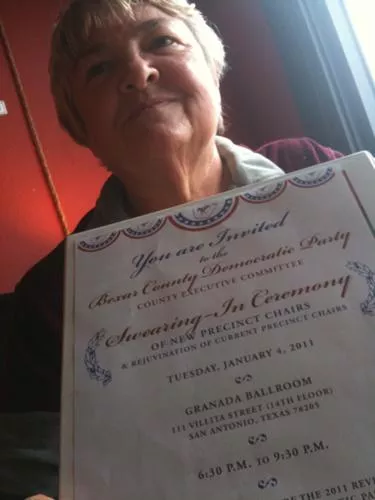 At a near-downtown coffee shop, Dee Villarrubia (right) and Joel Mayer, former and current precinct chairs with the Bexar County Democratic Party, are scrolling through documents on their iPhones, talking to, at, and over each other about local Party by-laws, state Party practices, and what they see as an unrestrained power grab by Party Chair Dan Ramos.
Newsmonger readers will recall Ramos-related complaints dating back to the chair's insistence that monthly meetings (as well as an assortment of committee meetings) be held at a Southwest SA industrial warehouse despite the complaints of several precinct chairs blaming the site for making them sick in 2010. (In the Express-News last week, Ramos, who failed to return repeated phone and email messages from the Current,  suggested the complaints were really racism at work, that the members just didn't want to meet on the Westside because there were "too many Mexicans.")
Mayer and Villarrubia decry what they see as Ramos' seemingly one-person hijacking of the Party. For example: the group's secretary, who is elected and serves for two years, they said, had been replaced unilaterally by Ramos. And multiple committee chairs, including those over finance and recruitment, have been suddenly replaced.
What could be a defining showdown for control is expected Tuesday night when the group gathers at 6:30 p.m. tonight for its January meeting of the County Executive Committee. The split has also moved to the internet, where the group's former site is no longer being updated. For Tuesday night's agenda — and, yes, there are two very different ones floating around — you must go to the recently launched bexarcountydemocraticparty.org.
"[Replacements] can't be by fiat by a dictatorial chair," Villarrubia insisted, "and they need to be removed for cause. He's filling non-vacancies."
"If someone was being paid by Republicans to disrupt the Bexar County Party, it would do exactly what [Ramos] is doing," Mayer said. "I don't think Bexar County's worth Karl Rove's interest, but you never know."
The January meeting of the group's County Executive Committee is scheduled for 6:30 p.m. tonight in the Grenada Ballroom, 111 Villita Street.