In Hollywood, a land where the sequel to a film not yet released (The Hobbit) already has a release date (December 2012), there's no such thing as looking too far ahead.
We investigated a dozen or so films coming to theaters this year that seem fascinating and, most importantly, do not involve robots, spaceships, or super heroes.
Adoration (May)
Over the last few decades, Canadian director Atom Egoyan has come to embody the term "subtle reflection." Nominated for the Golden Palm at last year's Cannes Film Festival, Adoration concerns a schoolboy who presents a fictional tale of his terrorist parents' fate as fact on a webcam. Here's the shocker: Internet prowlers hate on him!
The Box (November)
Donnie Darko director Richard Kelly gets one last shot at fulfilling his early promise after his disastrous follow-up, Southland Tales, cost (and lost) $17 million. Things look gloomier for Kelly since Warner Bros. pushed The Box back a full year from a late-'08 release. But the sci-fi moral dilemma at the core of the film (based on an episode of The Twilight Zone and, vitally, playing off ideas within Sartre's No Exit) is engrossing and terrifying.
Funny People (July)
Writer-director Judd Apatow has been inching ever closer to the kind of thinking-man's realty James L. Brooks has held the deed to for decades. Details of Apatow's next effort are under lock and key, but he'll allow that Adam Sandler plays a dying stand-up comedian who takes Seth Rogen's fledgling talent under his wing. Apatow has said, "I'm trying to make a very serious movie that is twice as funny as my other movies." Whether this is Apatow's Broadcast News or his (shudder) I'll Do Anything will be an interesting sub-plot for the summer.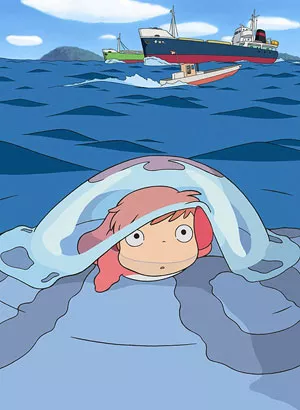 Ponyo on the Cliff by the Sea (TBD)
Already released in Asia, the buzz on animation master Hayao Miyazaki's new journey into the surreal has been manic. (Remember in Finding Nemo when that gang of torpedoes exploded underwater but on the surface had the impact of a pelican fart? Sadly, that's how a Miyazaki film registers in America: a pelican fart.) Miyazaki (Spirited Away) transposes Hans Christian Andersen's The Little Mermaid onto a goldfish who longs to be human.
Public Enemies (July)
Johnny Depp is 1930s bank robber John Dillinger and the bane of FBI agent Melvin Purvis' (Christian Bale) existence in this Michael Mann (Heat) actioner that details how the hunt for Dillinger and his associates, Pretty Boy Floyd and Baby Face Nelson, led to the creation of the FBI. Word is that Mann, unparalleled at on-location shoot-em-ups, is filming crucial scenes at the actual historical sites where they occurred in Chicago and Wisconsin.
Sherlock Holmes (November)
Only last summer, Columbia Pictures responded to the news of a big-budget Guy Ritchie version of the famed detective with an announcement that they were rushing out a comedy version with Will Ferrell and Sasha Baron Cohen … until Warner Bros. boasted the signing of Robert Downey Jr. as Sherlock in Ritchie's film. You can't compete with that, and Columbia knew it. They dropped the plans. That's how big of a bat Downey Jr. is swinging these days after his incredible turns in Iron Man and Tropic Thunder, and now that Ritchie has shed his Material possession, hopes are high that he'll find his Lock, Stock mojo again.
Shutter Island (October)
Shooting has already wrapped on Martin Scorsese and Leonardo DiCaprio's fourth collaboration, and it's lucky that it did; Island co-star Mark Ruffalo has dropped out of, or delayed, everything on his schedule after his brother's tragic death. With due respect, to make us wait any longer for this captivating project would have amounted to cineaste torture. Based on a novel by Dennis Lehane (Mystic River) and also starring Max Freaking von Sydow (The Seventh Seal), the film stars DiCaprio as a U.S. Marshal investigating a mental hospital on a remote island where a murderous crazy woman has escaped and hides in the shadows. Ruffalo is the rookie cop to DiCaprio's old, grizzled vet. Seriously.
Taking Woodstock (August)
Cinematic chameleon Ang Lee (Crouching Tiger, Hidden Dragon; Brokeback Mountain) continues to throw his fans for a loop with a foray into comedy. Daily Show contributor Demetri Martin stars as a closeted Catskills motel clerk who helped enable the 1969 Woodstock festival. The film is based on the true story of Elliot Tiber, who wrote about his experience in the 2007 novel of the same name. The release of the film is timed with the 40th anniversary of the hippie fest, so expect an insane amount of tie-in merch. I'm crossing my fingers for an Abbie Hoffman Happy Meal figure. (Incidentally, Hoffman will get his own big-screen treatment in the Aaron Sorkin-scripted Trial of the Chicago 7 in December.)
The Time-Traveler's Wife (TBD)
Any issues that might be plaguing this adaptation have been kept extremely hush-hush, but issues there must be. Considering the pedigree behind The Time Traveler's Wife, it should have been a breeze: Based on the smash 2003 novel by Audrey Niffenegger and adapted in script form by the writer of the tear-jerking monster hit Ghost, the weeper stars proven romantic draw Rachel McAdams. But the long-wrapped film has been constantly pushed back from its original fall of 2008 release date, and currently has no Friday to call its own.
The Tree of Life (TBD)
Any time a Terrence Malick film comes to a theater near you, due effort should be made to watch it, if only because these moments are fleeting. Malick infamously drove Richard Gere and Paramount's money men to insanity in the '70s making his magic-hour opus, Days of Heaven, then didn't make another film for 20 years. For his latest, Sean Penn stars and Brad Pitt (who took over Heath Ledger's role) plays his brother. That's about all anyone knows about this thing.
Whatever Works (TBD)
Writer-director Woody Allen, that reliably anti-social ne'er-do-well, directs Larry David, an equally reliable anti-social ne'er-do-well, as an eccentric older man who falls for a young Southern belle (Evan Rachel Wood). We're gonna go out on a limb and guess this film will be controversial.
Where the Wild Things Are (October)
This adaptation of a children's book could (and should) easily fill the pages of its own book, considering its tortured journey to the screen. How tortured? Anyone remember seeing the teaser trailer for this thing before settling into your stadium seating to watch 2000's How the Grinch Stole Christmas? In the years since, the film has switched studios (Universal, then Warner Bros.), voice actors, lead actors and the very nature in which Spike Jonze shot the movie. Working off a script by celebrated author Dave Eggers, Jonze used 8-foot-tall, furry costumes with actors inside to portray the creatures (remarkably weird, and very early test footage can be easily found online) but Warner Bros. wanted CGI animation and almost ordered an entire reshoot. The compromise they reached was to only computerize the creatures' faces, a process that should take until moments before the scheduled October 16 release date. Never work with children or imaginary animals, Spike. •