Pioneering bilingual newspaper
La Prensa
soon will be an online-only publication.
Last week, the paper cut four editorial positions — or roughly a quarter of its total staff — as part of a plan to go web-only around the end of May. The outlet will rely more on contract workers and freelancers for content, publisher Nina Durán said.
"We have no intention of shutting down. Not after 29 years," added Durán, whose father Florentino "Tino" Durán led the paper from 1989 until his 2016 retirement. He died last year at 82.
La Prensa
's website describes it as the first and oldest bilingual publication in the state of Texas and the only local publication that sells both Spanish and English ads. The paper made its name by featuring largely positive stories focused on San Antonio's Hispanic community.
Durán declined to discuss specifics about its revamp, saying much was "still up in the air." However, in a September interview with the
San Antonio Express-News
, she hinted a format change was on the horizon.
"I know we need to make a major shift in order to remain relevant and present in our city, but honestly, I'm still trying to figure out what that is," she told the daily. "Do we jump into the event sector? Do we create La Prensa TV? I don't have the answer to this question yet."
Marketing firm HeartFire Media merged with
La Prensa
in 2016, bringing the paper additional web, social media and video capabilities. As of press time, the paper's website included an array of fresh content, including a story on Cheech Marin's recent visit to San Antonio College and the San Antonio Zoo's upcoming Zoorassic Park exhibit.
Media experts said
La Prensa
's decision to stop producing a print edition is understandable, given the tough business environment for newspapers. Papers across the country have shed jobs and pages as increased online competition eats into ad dollars.
However, they also worry whether the decision will leave some of its core audience wanting.
"It's really unfortunate they're going to stop the print edition," said Trinity University Communication Professor Robert Huesca. "The readers of their print version probably aren't as digitally connected as the rest of the San Antonio community."
And while eliminating the print side of the business will slash expenses for the organization, Huesca warns that it could also reduce revenue for the company. Online ads tend to command lower rates than print.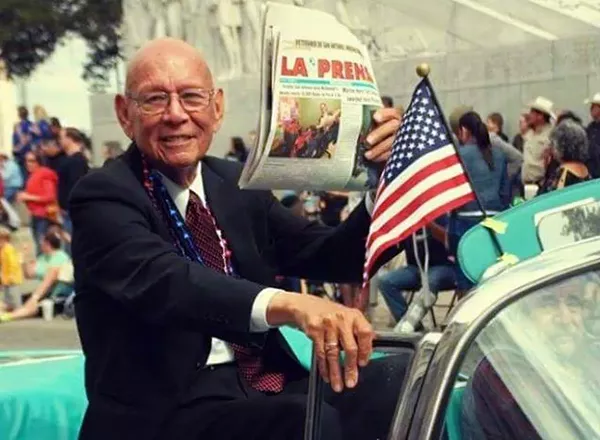 Courtesy
Tino Duran shows off a copy of La Prensa while participating in a Fiesta parade.
Ezequiel Peña, director of the Center for Mexican American Studies and Research at Our Lady of the Lake University, said
La Prensa
should be mindful not to alienate its existing readership as it shifts format.
"La Prensa serves a large need for the part of our community that's predominantly Spanish-speaking," Peña said. "It's a place for them to go to find out about what's going on in their community, to learn about the resources available to them and to feel like they're participating in the affairs of the city."
Part of the paper's longevity was having a figurehead like Tino Durán with such deep connections to the community he served, Trinity's Huesca said.
The elder Durán, an Air Force vet who grew up in the Alazan-Apache Courts, restarted
La Prensa
after stints at papers in Dallas and Fort Worth, according to the Texas Newspaper Hall of Fame, which inducted him in 2014. Its predecessor publication was founded here in 1913.
Durán and his wife and co-publisher Amelia "Millie" Durán also established the La Prensa Foundation, which raised millions of dollars for college scholarships.
"
La Prensa
was always focused more on softer news, maybe a little more promotional than what you'd see from a daily newspaper," Huesca said. "But I think that was a result of it being so entrenched and involved in community life."
Stay on top of San Antonio news and views. Sign up for our Weekly Headlines Newsletter.