First of all, when I got this email (subject line: Black Flag Launches Search for Largest Bug!) I thought it was, like, the hardcore band Black Flag gone bug hunting. Black Flag and big bugs didn't seem so outrageous: maybe they had hooked up with biology professor Greg Graffin (of Bad Religion fame) and found Science, or something. What a let down. Not only was it not "that" Black Flag filling my inbox, it was a bug poison company I had forgotten ever existed after I first heard Rollins and crew on
Rat Music for Rat People
compilation. And not only was it a bug poison company knocking, but it was a bug company knocking with a sickening ad campaign. The ruse to get us loving Black Flag the bug killer? An invitation to pose the largest bug you can find next to a Black Flag product and snap a picture (before you "squish," the release reads). Really Big Bugs could win you money.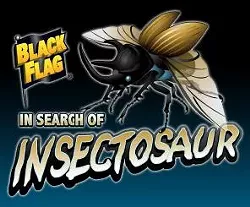 Not only is this sort of gallows humor really unfunny (next stop: Messiest mouse in a glue trap? Har. Har.), but rampant insecticide use is already playing hell with our local ecosystems and pollinators around the world (including our once-prolific
Monarch butterfly migration
). Thats one reason I'm not so sympathetic to bug-killing companies working to up their profits by exploiting the objects of their terminal focus. That's why Black Flag — the insecticide company, not the band — wins this month's Lame Press Campaign of the Month from us at the
Current
. They've got a lively copywriter on retainer, though. Jokes a'plenty. Example from the
website
:
No photos of ex-spouses please. Only photos of real insects or arachnids (spiders and scorpions) will be considered.
(Some of us should be so lucky as to have an ex-spouse as lovely as a rhino beetle. Just sayin'.) So here's my counter-proposal: send us photos of your favorite eco-enhancement (bat house, hummingbird bush, frog habitat — hell, we'd be happy with picks of your neutered dogs or cats) and we'll publish them here. There's no money in this offer, but neither do we want you to go squishin' anything on our behalf. Think about it.