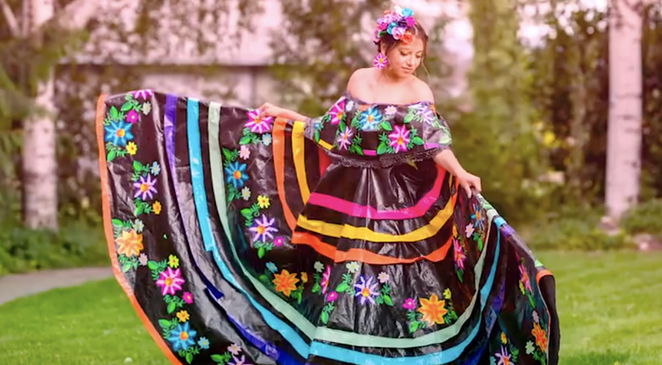 Instagram / theduckbrand
Houston-born Larissa Leon has snagged a $10,000 scholarship for her work on this SA Fiesta-worthy dress.
After denouncing the white supremacists who've latched onto its pro-Second Amendment brand, the founders of Black Rifle Coffee Co. found themselves inundated with harassment and death threats.
Along with our coverage of that story, articles about Texas Sen. Ted Cruz's and Gov. Greg Abbott's continued chicanery were among the
Current
's most-read articles this week.
But there were also some bright spots: a Houston-native won a $10,000 scholarship for her Fiesta-worthy duct tape prom dress,
Current
contributor Bill Baird completed his trek circumnavigating SA by foot, and the zoo gave out free tickets to its Dragon Forest attraction to anyone who participated in this week's mobile COVID-19 vaccination clinic.
Still feeling out of the loop? Then read on below.
10.
San Antonio Zoo hosts COVID-19 vaccine clinic with free Dragon Forest tickets for participants
9.
Analysis: Charlo gets away with a dubious majority draw against Castaño in San Antonio fight
8.
San Antonio among the 10 best U.S. metros for Generation Z, new study says
7.
Texas Gov. Greg Abbott pledges to revive bill banning gender-affirming care for transgender kids
6.
Prolific San Antonio horror author Joe McKinney has died
5.
San Antonio writer Jenny Lawson's Nowhere Bookshop sets 'Bland Opening' for Monday, July 19
4.
Fiesta San Antonio-worthy duct tape dress wins Stuck at Prom Scholarship Contest
3.
Ted Cruz blocks 60 diplomatic appointments in a move members of his own party call 'fruitless'
2.
Completing a hike around San Antonio's perimeter highlights the need to finish its greenway system
1.
Black Rifle Coffee denounced extremists — and the far right is pissed
Stay on top of San Antonio news and views. Sign up for our Weekly Headlines Newsletter.