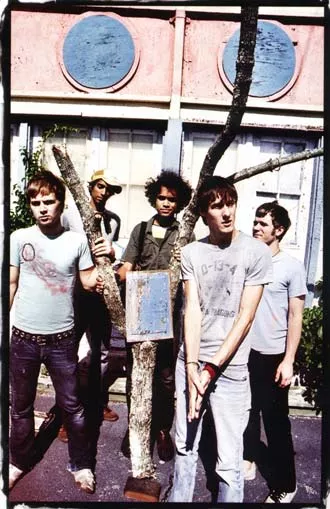 Blood Brothers


My First Kiss At the Public Execution

The Blood Brothers have a way of bringing out the ear, nose, and throat specialist hibernating within all of us. You don't have to listen to this Seattle hardcore quintet for long to develop a concern for the laryngeal health of dueling singers Johnny Whitney and Jordan Billie. They regularly scream with such shrill, maniacal abandon that you can't help but wonder how they manage to keep it up after seven years of aural assaults.

Whitney and Billie neither harmonize nor answer each other. They pay no mind to what key their band plays in. They convey no particular sense of gender, or rather they sound like women as often as they sound like men. They simply have competing, simultaneous tantrums in four-minute song form. The Blood Brothers' fourth, and latest album, Crimes (released October 12 on V2) has been hailed as a broadening of the group's merciless attack, and it's true that it does demonstrate some appreciation for dynamics and

Current Choice

The Blood Brothers
with
Chinese Stars,
and
White Rabbits
9pm
Sat, Nov 6
Sin 13
1902 McCullough
320-6859


rhythmic variation. The title song is uncharacteristically moody and hypnotic, and a few tracks - such as "Rats and Rats and Rats For Candy" - flirt with conventional verses, before turning on the tonsil shredder. But this band remains committed to the kind of sonic aggression that made it an underground favorite while its members were still in their teens.

Song titles like "Trash Flavored Trash," "Peacock Skeleton With Crooked Feathers" and "My First Kiss At the Public Execution" promise much, but lyrics tend to get lost in the mayhem when this band cranks it up, which is most of the time. These musical brothers didn't earn their name from being blood kin. They got it because they're expert at making ears bleed. If they don't end up needing a physician, their audience members just might.