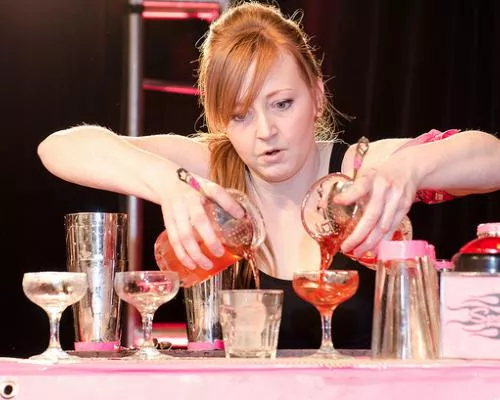 Forsythe during season 2 of Speed Rack. (Courtesy)
Blue Box's (312 Pearl Pkwy) bartender Elisabeth Forsythe will serve as San Antonio's only 'tender during Wednesday, January 15's Speed Rack Austin competition. The event, held at Red 7 (611 E 7th St), pits female bartenders against each other based on accuracy and speed (duh).
Forsythe qualified as a wild card participant for 2013's national Speed Rack Finals in NYC, but was eliminated after spilling a drink. She says she's picked up a few techniques since then. Forsythe has been bartending in San Antonio for 14 years: first at Bayou's (now occupied by Landry's), followed by Alibi's and later as assistant manager at The Davenport.
She's practicing said techniques this Sunday, at Blue Box's upstairs bar: attendees pay $20, pick four cocktails for Forsythe to prepare while timed. Her participation as SA's only representative, she says, speaks to the climate of the city towards female 'tenders and how they're viewed.
"There's not a whole lot out there for us. Other cities seem to have it better; most of the girls competing are from Austin," she says while pointing out that there are a "few young girls coming up," fostered under Esquire's Houston Eaves and Brooklynite's Jeret Peña.
The Speed Rack Austin competition kicks off at 5:30 p.m. Tickets are $20 in advance and $25 at the door with proceeds benefiting SHARE Cancer Support, the National Breast Cancer Foundation, Susan G. Love, The Helen David Foundation and others. Winners receive prizes along with a $500 honorarium toward travel for finals in NYC.