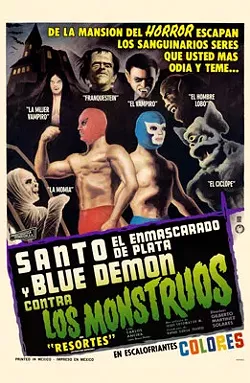 If you're one of the millions who have watched the trailers below and wonder about the Tarantino-worthy dialogue, acting that would make Laurence Olivier envious, and special effects that still cause George Lucas sleepless nights, this is your lucky day. On January 22 and 29, the Instituto Cultural de México will screen these two classic films starring legendary Mexican wrestlers Blue Demon (pronounced DEH-mon, not DEE-mon) and El Santo ("The Saint").
The first movie, El Santo y Blue Demon vs. Los Monstruos ("The Saint and Blue Demon vs. The Monsters," duh) will be shown on Saturday, January 22, at 5 p.m. The sophisticated plot deserves that I translate verbatim:
"Macabre Dr. Halder scared science when he revived a dead man. After hearing the news of the doctor's death, Blue Demon decides to investigate and is captured by the doctor's disciples. They turned him into a malignant being, and Blue Demon sets out to destroy their master's arch rival: El Santo, the Man with the Silver Mask."
The second film is even better:
El Santo vs Las Lobas
(The Saint vs. The She-wolves"), which will be shown on Saturday, January 29, at 5 p.m. Check this out: "Lycanthropes chose Luba as their new queen, and she leads the battle against Good with Licán, king of the werewolves. She must destroy El Santo, who will work tirelessly against these creatures before they eliminate the people he swore to protect." Admission for both movies is FREE,
GRATIS
, and Instituto de México is located at 600 Hemisfair Park. If, after watching these trailers and knowing this info (the
GRATIS
part, I mean), you don't go and pack the movie theater at Instituto de México, hey, it's your right. But then, I don't ever want to see you wearing a
luchador
mask, I don't ever want to see your
luchador
-based art again, and I don't ever want to hear your bullshit about how much you love
lucha libre
. When it comes to movies and
lucha libre
, this is it,
carnal
. Call (210) 227-0123 for more info.