Jessica Elizarraras
A bag of boiled peanuts from Lowcountry.

A familiar smell wafted from an unknown source when we made it to Lowcountry's opening night on November 25 of last year. Was my mom hiding in the back? Was I having a stroke? No, the scent of pinto beans was coming from a large Crock-Pot on the counter, safely tucked away by two porcelain cat figurines. But instead of pinto beans, the scent was coming by way of boiled peanuts.


We ordered cheese straws instead, picked up our cocktails and made our way to the patio. It wasn't until co-owner Drew Morros insisted we try the peanuts that we reached into the bag of warm and, well, moist shell-on legumes. Much like crawfish, there's a way to go about eating said snack: crack 'em, suck out the salty brine, and then split them open to reveal however many glistening peanuts. Eat and repeat until the bag is done.
Morros, originally from South Carolina, met best friend and co-owner Roberta Marques while living in Pensacola, Florida, but she remembers watching her dad making boiled peanuts at home.
"My dad couldn't see raw, in the shell peanuts and not buy them … he would do them when I was a kid and I remember it being an all-day thing," Morros said.
She and Marques boil up to 25 pounds of raw or green peanuts sourced from Tim's Oriental & Seafood Market in a 10-gallon pot inside their kitchen at Crossroads. This is after the peanuts soak for a day to help spread up the 8 to 12-hour process. They'll taste for salt and add water while the peanuts are boiling at hourly intervals.
The menu at Lowcountry is reflective of her time growing up in the South. There are pickled eggs, cheese straws, pimento cheese with green bean pickles, and, of course, boiled peanuts. Though most South Texans aren't familiar with the product, they can usually be found in roadside stands, gaming events, and flea markets in South Carolina, North Carolina, Georgia, northern Florida, Alabama, and Mississippi. The snacks has roots all the way back to the 1860s, but how they came into vogue is still a bit murky.
She and Marques will often guide bar-goers on how to eat boiled peanuts, but introducing the peanuts comes with a few hiccups. Though sales have picked up since the "boiled peanuts" banner was hung out front, people will still flat out ask what they are.
"It's one of those questions that's really hard to answer without sounding condescending," Morros laughed. "It's in the name …"
Lil' Red's Boiled Peanuts
also has to navigate. The former oil and gas fluid specialist first came to the area in 2011 from Pensacola, Florida — like Morros and Marques — to work in the then-booming oil fields. He lost his job in March 2015 after oil prices dropped. A stir-crazy McAndrews drew on his background and his newfound stay-at-home situation to create his boiled peanut operation.
"It was something we took for granted back home and can't find fresh around here," McAndrews said.
After launching Lil' Red's in early 2016, affable McAndrews, wife Lacy and eldest son Archie — who all happen to be redheads, by the way — took to local markets to test their product with a handy mini-warmer in tow. There, they meet two types of customers: transplants that find the snack nostalgic, and those who have no idea what they are, but want to try the boiled peanuts.
"Once they get past the idea of a wet peanut, they try it and are pleasantly surprised," McAndrews said.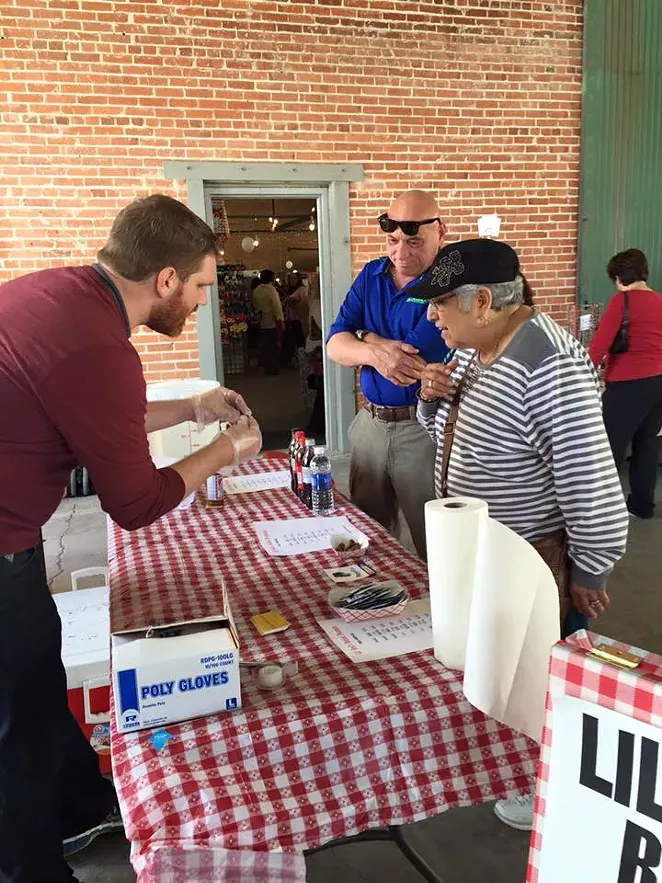 McAndrews explaining how to eat boiled peanuts at the South Flores Market in 2016
Presentation is also important. At Lowcountry, the salty peanuts are served in a casual brown sack and paired with a spare bag for empty shells. McAndrews opts for red and white paper boats filled with either the regular salted peanuts or a spicy Cajun blend if you want to stroll the market (they're regulars at the
Truckin' Tomato's Mid-Week Market
on Wednesdays and newcomers to
Castle Hills Farm to Market
on Sundays).
If people want to enjoy the creamy snacks at home, McAndrews offers vacuum-sealed brine-filled packs for $5. These can be reheated in boiling water for 5 minutes to continue the snackin'. But McAndrews has found another way to turn people onto this Southern favorite — a "dip and spread."
The dips are available in three flavors: lemon dill, cilantro jalapeño and smoked bell pepper. A 4-ounce container runs $5, and the dip has a similar consistency to hummus. Though not here to tell you how to snack, the spread goes well with pita chips, cucumber slices, carrots, and in sandwiches or wraps. A 2-tablespoon serving comes in at 90 calories, 7 grams of fat, 190 grams of sodium, 5 grams of carbohydrates, 2 grams of fiber and 3 grams of protein.
McAndrews makes small batches of the stuff weekly inside a 180-square-foot space inside the
Local Sprout Food Hub
off Chestnut. And although the dips are picking up in sales, pureeing the peanuts isn't something McAndrew's ever witnessed back home.
"My family will ask, 'why would you do that to a boiled peanut?' But people come back to purchase the dip alone — it's a good little snack," he said.