This week, a Nevada rancher set off a firestorm of criticism and disbelief when he pondered aloud whether African-Americans were better off as slaves. (Yes, really.) Cliven Bundy, known for staging a standoff against the federal government for his right to graze cattle on public land sans a fee, is caught dispensing his two-very disparaging-cents during a meeting among supporters, as first reported by the
New York Times
(video
here
):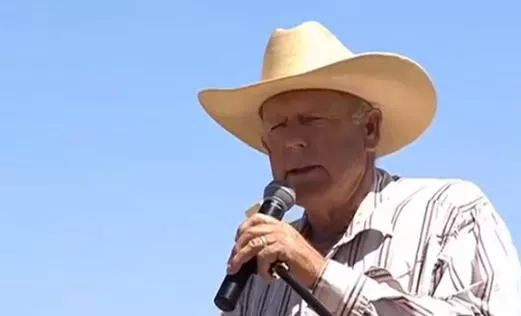 Cliven Bundy addressing press. Screen Shot via NBC
"And because they were basically on government subsidy, so now what do they do?" said Bundy, referring to African-Americans as "negroes." "They abort their young children, they put their young men in jail, because they never learned how to pick cotton. And I've often wondered, are they better off as slaves, picking cotton and having a family life and doing things, or are they better off under government subsidy? They didn't get no more freedom. They got less freedom."
Rather than apologizing or distancing himself from the inflammatory comments, Bundy only doubled down on his point. During a rambling press conference Thursday, the rancher reiterated his previous statements, saying (video here):
"Cliven Bundy's [speaking in third person] a-wondering about these people," he said. "Now I'm talking about the black community. I'm a-wondering. Are they better off with their young women aborting their children? Are they better off with the young men in prison? Are they better off with the older people on their sidewalks in front of their government-issued homes with a few children? Are they better off, are they happier than they was in the South in front of their homes with their chickens and their gardens and their children around them, and their man having something to do? Are they better off?"
Bundy has even alienated one-time supporters in the conservative realm like right-wing personalities, Glenn Beck, Sean Hannity (that's when you know it's bad) and Kentucky Republican Sen. Rand Paul, who deemed his remarks "offensive."
Cliven Bundy has us a-wondering if he'd be better off sticking to ranching and keeping his mouth shut for a while.