Legislating your uterus doesn't seem to be enough for state Senator and candidate for lieutenant governor, Dan Patrick (R-Houston), who recently offered up advice on how female journalists can help boost cable news ratings during a media criticism kick on his conservative radio show, "
Dan Patrick and Friends
."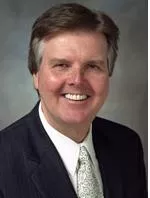 Via Texas State Senate web site.
"I mean CNN is in the tank, MSNBC is in the tank. You know, there are other people they could put on and copy exactly the Fox formula­– what is the Fox formula? Beautiful women who wear skirts, not behind a desk," said Patrick in audio captured by the SAEN/Houston Chronicle Austin Bureau. "I mean really, they cross their legs very tightly and sit on a tall stool, that's part of the presentation. And very conservative opinion makers and good guests, you know? That's it– 1, 2, 3. And that's how Roger Ailes [president of Fox News Channel] built his empire."
Patrick's blasé acceptance of reducing women in the media to be valued by mere aesthetics– and a pair of legs– is indicative of the way he's approached women's health policy in Texas. Patrick authored the state's 2011 mandatory sonogram law, which requires women to view an image of the fetus and hear the fetal heartbeat before undergoing an abortion. He also co-authored the Senate version of Texas' new anti-abortion law– called everything from onerous, unnecessary and draconian by reproductive rights advocates. He continued to champion the restrictions, despite the thousands who vocally protested the measure, even during the Senate floor vote– a group he dismissed as "inappropriate."
In short, Patrick is no friend of women's rights and his recommendation for other cable news programs to mimic the sexist "Fox News formula" of presenting women in superficial terms reinforces his own hollow and ideologically motivated view of women.
Here's one formula we do know: The more Fox News you watch, the less informed you are and the dumber you get, statistically speaking. That's it– 1,2,3.