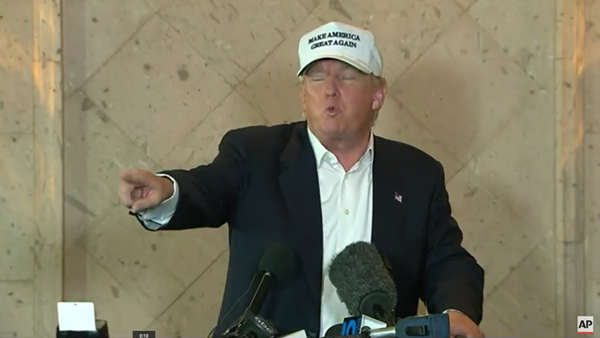 Associated Press (Screengrab from YouTube)
Ladies and gentlemen, Donald Trump.
Well, Donald Trump finally did it.
On Thursday, the clown-faced maniac clenched support from 1,238 Republican delegates — one more than he needed to secure the nomination.
In honor of the circus that is The Donald, here are few gems from Twitter demonstrating what a bonehead the guy is.
I find it offensive that Goofy Elizabeth Warren, sometimes referred to as Pocahontas, pretended to be Native American to get in Harvard.

— Donald J. Trump (@realDonaldTrump) May 26, 2016
Trump is a jack ass. That I will tell you.
The protesters in New Mexico were thugs who were flying the Mexican flag. The rally inside was big and beautiful, but outside, criminals!

— Donald J. Trump (@realDonaldTrump) May 25, 2016
In Albuquerque, New Mexico, protestors tried to force their way into a Trump rally. There was violence. People threw rocks and bottles at the rally's entrance and at police who wore riot gear,
Reuters reported
.
People were waving Mexican flags. But what does Trump expect? He's been nothing but racist while running in the primary, calling immigrants rapists and drug dealers.
In trade, military and EVERYTHING else, it will be AMERICA FIRST! This will quickly lead to our ultimate goal: MAKE AMERICA GREAT AGAIN!

— Donald J. Trump (@realDonaldTrump) May 23, 2016
We're still trying to figure out which America Trump thinks was great. Was it during slavery, Jim Crow? Whatever it is, if he's elected, be scared.