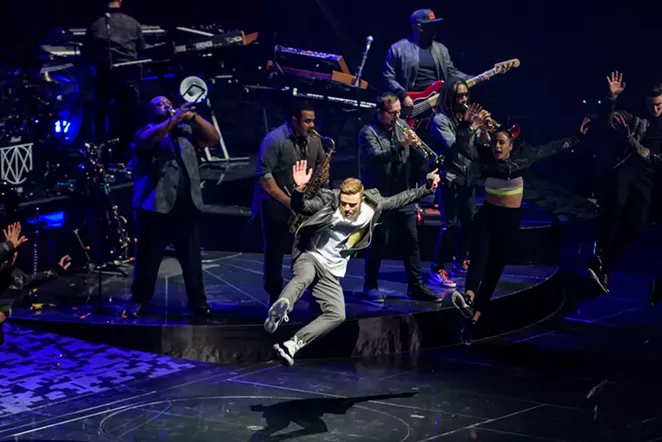 Justin Timberlake ain't nothin' to fuck with.
While it's clear that his 30-year-career in music and entertainment sort of speaks for itself, his performance at the AT&T Center last night was a spectacle of undeniable talent.
Even if you don't like pop music — like, if you don't get down with Britney and Madonna and maybe not even Michael Jackson (and if that's the case, what kind of monster are you?) — Timberlake's show was so rich in musicianship and showmanship that anyone wanting to say something bad would be hard-pressed to, ahem,
justify
a negative review.
The night opened with Francesco Yates, a Canadian pop singer and songwriter, who rose to fame with his vocal contribution to the Robin Schulz song "Sugar."
Yates, in a sparkly jacket and armed with a three-piece band, tore into a 20-minute pop set that featured Bruno Mars' "Finesse" and other new jack swing tunes.
Yates actually resembled a young Timberlake, curly hair and all, especially as he glided across the stage with the kind of Michael Jackson-influenced dance moves the "Cry Me a River" singer is also partial to.
Save some empty seats probably set aside for press, the arena was packed 20- to 40-somethings — folks who followed Timberlake's sugar poppery in late-'90s or fell under his charm as he endeavored a solo career in the early-aughts.
The entire building erupted into applause as the Tennessee Kids (Timberlake's backing band of 12+ musicians and singers) burst onto the stage one-by-one.
Finally, the prince of pop himself appeared, wearing a leather biker jacket, grey pants and some white sneaks. He dove right into "Filthy," the first track of his fifth and latest solo album,
Man of the Woods
.
Timberlake's stage set-up was involved to say the least. Screens hung at opposite ends of the arena and also above the middle of the floor in a circular formation like a futuristic Stonehenge. During the show, images of skies, trees, animals and woods rotated through.
Lasers, smoke, and dancing —
so
much dancing — also punctuated the two-and-a-half-hour performance. Timberlake frequently left the stage to perform on a path that wove through the floor and audience. The stage extension featured trees, sometimes smoke and — get this — a fucking bonfire for a few songs.
Now, it's not that
Man of the Woods
isn't a good album — it's actually a solid pop record — but Timberlake didn't focus solely on his latest material. Instead, he let the audience reminisce as he wove through his entire catalog of solo work, playing pretty much all the heavy hitters and deep cuts.
He touched on "Suite and Tie" from 2013's
The 20/20 Experience
, "Sexy Back," "My Love," "Love Stoned" and "What Goes Around" from 2006's
FutureSex/LoveSounds
and "Señorita," "Like I Love You," "Cry Me a River" and "Rock Your Body" from 2002's
Justified.
Clearly, Timberlake wanted to make sure the audience got its money's worth.
And given the ear-piercing screams and applause when he would dive into a recognizable hit, the crowd approved of his choices.
But there were twists too. The singer utilized an assortment of instruments, including acoustic guitars, electric piano and even a drum sampler — chopping and screwing with "My Love" and "Cry Me a River" — to add new texture to old classics.
Saturday night at the AT&T Center will be one for fans to remember, as Timberlake cemented his reputation — at least locally — as one of the most talented pop artists of all time.
Get our top picks for the best events in San Antonio every Thursday morning. Sign up for our Events Newsletter.