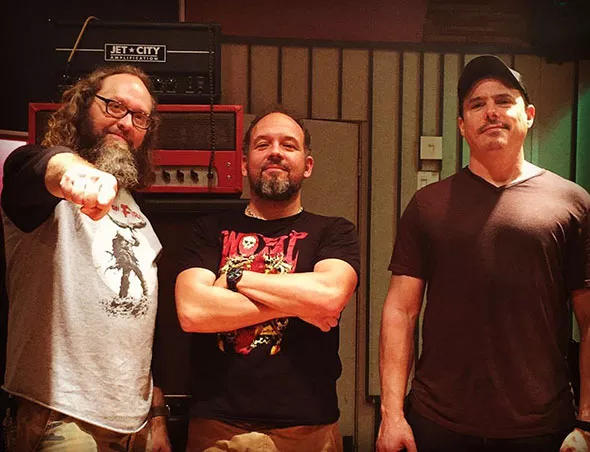 Courtesy of Wo Fat
Dallas-based amp connoisseurs Wo Fat will headline Ripple Fest at Limelight on Saturday, March 17.
If the rest of S.A.'s SXSW spillover shows don't feature enough drop-tuned guitars and sludgy riffs for your taste, this weekend's Ripple Fest may be just what the rock-n-roll doctor ordered.
The 12-band, all-day festival at
Limelight
on Saturday, March 17, highlights acts on
Ripple Music's
stoner/doom/psych-heavy roster, about half of which will be fresh off the label's inaugural SXSW showcase. Music kicks off at 3 p.m., with headliners
Wo Fat
and
Mothership
, both hailing from Dallas, closing the festivities. San Antonio-connected
Witchcryer
plays earlier in the day.
Admission is $20.
Beyond having enough energy and breakneck precision to keep 10- and 12-minute songs interesting, Wo Fat has the best
Hawaii Five-O
-derived name since Austin noise rockers Zulu As Kono. Mothership's heavy-lidded stoner rock is steadily building an audience thanks to the band's turn-on-a-dime riffing and rigorous touring schedule.
While Ripple's roster may not be everyone's taste, promoter Loy Smoak said any rock fan looking for "good music and good performances" is liable to find something to enjoy in the deep-stacked bill.
Anyone feening for a taste of the bands' music can download Ripple's
free SXSW sampler on Bandcamp
.