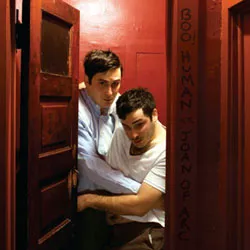 Boo Human
Composer:
Joan of Arc
Conductor:
Joan of Arc
Label:
Polyvinyl
Release Date:
2008-05-21
Rated:
NONE
Media:
CD
Length:
LP
Format:
Album
Genre:
Indie Rock
Through an exclusive turnstile of guest members, Chicago's Joan of Arc has synthesized its murky, folky sound and infused it with electronic elements to make Boo Human punchy and preternatural.
Tim Kinsella's subdued vocal melodies craft a lone lullaby in album opener "Shown and Told," revealing the tragic ease with which we fail to see what's in front of us. The bright synth opening of "Laughter Reflected Back" delves into the ugliness that tests friendship and commitment, but steers the path to the bright side, as Kinsella churns out, "But at least we can each/ count on all this shit to be reflected back at us/ in the depths of our laughter." There's something triumphant and encouraging about this tune, and its focus on diligence through the hardships that make up our lives.
"9/11 2" contends with the desire to split oneself between time frames, tenses, and people to preserve the present because "The future is gone/ and the past won't stop happening," though we all know better. The flowery prelude of "A Tell-Tale Penis" indulges the voyeur in all of us, exposing what divergence from love can look like. In varying time signatures, Kinsella offers with resignation, "We once spent our afternoons dancing in our living room/ now she's given in to her most unlit corners too soon."
At various times, this record reminds you of a daft passer-by recalling souvenirs from moments passed. However rare, Boo Human stretches into the realm of having a song's kernel be heartier than its husk.
— Francesca Camillo