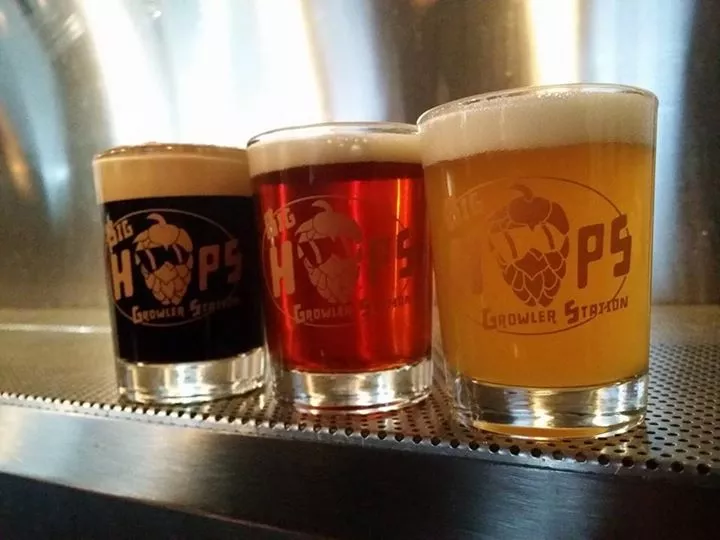 Big hops, big gulps (Courtesy)
Booze News slings up the latest gulp downs around town every Tuesday.
Little Woodrow's of Austin and Houston is making it's way to San Antonio. The neighborhood pint spot with drink specials all week just may give us another reason to drink every night of the week. Hopefully Woodrow's will bring their competitive turtle racing to the Alamo City. We've reached out to the parent company for details on where the SA location will be.
If you'd rather hang with your girls for the night, San Antonio Girls' Pint Out is having another brew bash on Wednesday, February 19 at Big Hops Growler Station (11224 Huebner). It's '80s themed so don't forget your neon nail polish and crop top. It's ladies first at 6 p.m. and guys are invited at 8 p.m. The first event held at the Broadway Big Hops location was REALLY well attended, so get there early!
Another reason to drink on a weekday is coming up quick. The Hangar (8203 Broadway) is having a New Orleans style Fat Tuesday Party on Tuesday, March 4 that'll be fit for a king. They're taking the parking lot and turning it into an adult playground for giant Jenga, giant beer pong and cornhole. In Mardi Gras fashion, beads and other goodies will given out to go with that Bourbon Street grenade drink.
Thursday, March 13 marks the first occasion for Ruth's Chris wine dinner series of five courses paired with Penfolds wine. Each course is paired with its own Penfolds wine including coconut red curry shrimp, butternut squash bisque, braised lamb, sizzling 6 oz. filet and blue cheese soufflé. Reservations can be made at the North Airport location (7720 Jones Maltsberger) and the River Walk location (600 E Market) for $95.
Big Hops Growler Station is celebrating their one year anniversary on Saturday, March 15 with a charter bus visiting all three locations. The tour begins at the Gastropub location at 2 p.m. and heads over to Broadway from 2:30 to 4:30, then on to Huebner from 5 to 7 p.m. and ending back at the Gastropub. Each location will have their own event. Tickets are $50 per person and there's only 52 spots open so act fast. Tickets are on sale at Big Hops on Broadway and everyone gets an anniversary t-shirt, pint glass and six drink tickets. It's like a school field trip but with beer.
The San Antonio Aids Foundation is throwing a WEBB Party fundraiser that will benefit the GLBT community and the SAAF on Friday, April 11. The event takes place the Lambermont Estate (950 E Grayson) at 7:30 with cuisine from Deco Pizzeria (1815 Fredericksburg), Liberty Bar (1111 S Alamo), The Friendly Spot (943 S Alamo), Luther's Cafe (1422 N Main), La Hacienda (18747 Redland), Maggianos (17603 Interstate 10), and more. The grand menagerie-themed event officially ends at midnight but several official WEBB after parties will be around town. Pre-sale tickets are available for $75 in advance and $90 at the door.
5 Stones Crafting Brewing Co. (850 Schneider) is officially changing their name to 5 Stones Artisan Brewing to better suit the company's philosophy. 5 Stones is working on a new logo and website but still plans to be the same in every other aspect. They're hoping to have a open house with the new name sometime in March.
Got the scoop on local booze happenings? Email us at flavor (at) sacurrent (dot) com.