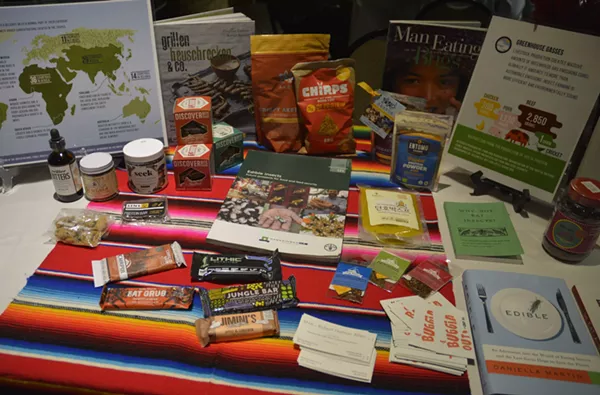 Courtesy photo
A collection of commercial foots that contain insect-based ingredients.
Mmm, bugs.
If you've ever hankered for a four-course insect tasting, San Antonio Botanical Garden's got ya covered.
In conjunction with the fun-loving folks at Texas A&M AgriLife Extension Service, the garden will host an event called the Incredible Edible Insect at 10:30 a.m. and again at noon Saturday, October 20.
Naturally, all dishes will be small bites.
"This will be a journey into
entomophagy,
or the eating of insects," said Molly Keck, an AgriLife Extension pest-management specialist.
Chefs Dave Terrazas of the Botanical Garden, Joshua Schwenke of Gastronomy Live Events, Michael Grimes of Southern Grit and Stephen Poprocki of Texas Black Gold Garlic will do the cooking. (BTW,
Poprocki's
an old hand at this sort of thing, having participated in past insect dinners at the Witte Museum.)
Meanwhile, Keck and Robert Nathan Allen — founder of Little Herds, a nonprofit that promotes insects as food — will supply the science. Namely, they'll explain how the wriggly little critters provide a sustainable source of nutrition.
And there will be youth activities too because what kid doesn't go through a bug-eating phase?
The cost for the sampling is $25 per adult and $10 per child. Tickets are
available online
, but the squeamish may want to bring their own barf bags.
So many restaurants, so little time. Find out the latest San Antonio dining news with our Flavor Friday Newsletter.