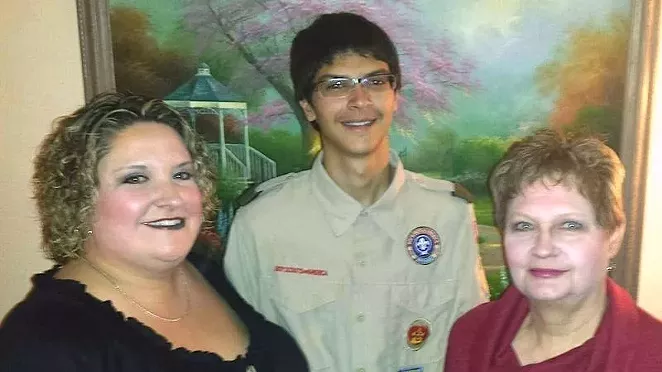 Adella Freeman
Adella Freeman says she was kicked out of her son's Boy Scout troop because of her sexual orientation.
A Boy Scout troop in Converse kicked Adella Freeman and her partner out of a meeting her son was attending because they are gay.
"At no time did I inform anyone of my sexual orientation, or seek to impose upon the troop. I just wanted to support my son Nick as he worked through the last few requirements for Eagle Scout," Freeman said. "I've been a part of his Scouting experience since he was a Tiger Cub Scout, and our family has never been an issue until now. This is why this 'Don't Ask, Don't Tell' policy simply doesn't work."
Freeman said troop 512 delivered the devastating news, but told Freeman her son could stay. Her son, Nick Zamora, was nearly an Eagle Scout and the family had been members of the scouts for eight years. Zamora decided to leave the organization because of the discrimination despite all of the effort and time he dedicated to the Boy Scouts.
"Until the Boy Scouts change their policies, I'm done with them," he said. "My moms are my family, and my family is everything to me. If the Boy Scouts can't accept my family for who they are, then the rank of Eagle Scout means nothing to me."
In 2014, the Boy Scouts of America allowed openly gay scouts into the organization — a reversal of its controversial policy. However, the organization did not amend its rules to include adults who are gay.
"Given that the National Council refuses to take action on this issue, we ask the Alamo Area Council to stand in solidarity with the dozens of other councils that openly support a change in the policy," said Zach Wahls, Executive Director of Scouts for Equality. "There are over a dozen other councils in which gay leaders are allowed to serve openly. We're asking the Alamo Area Council to join their ranks and do what's best for the local community."
Freeman will deliver a Change.org
petition
that's garnered more than 100,000 signatures to the Alamo Area Council Thursday.