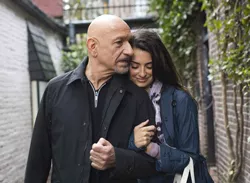 Elegy
Director:
Isabel Coixet
Screenwriter:
Isabel Coixet
Cast:
Penelope Cruz, Ben Kingsley, Patricia Clarkson, Peter Sarsgaard, Dennis Hopper
Release Date:
2008-09-03
Studio:
Samuel Goldwyn
Rated:
R
Genre:
Drama
A recurring Philip Roth character, Professor David Kepesh has a breast obsession well documented over three short novels. His original introduction, in the imaginitively titled The Breast, had him transformed, through some sort of cosmic poetic justice rarely exhibited outside of Rob Schneider movies, into a man-sized mammary. Though the sight of Ben Kingsley's face on a giant breast would've converted much of the audience to leg fetishists, that Kepesh novel would've made a more interesting and watchable choice for source material than The Dying Animal, which, translated to the screen as Elegy, depicts Kepesh as little more than a giant asshole.
Now pushing 70, Kingsley's Kepesh is still pursuing sex with the sociopathic obsession of a high-school jock, coolly targeting beautiful student Consuela Castillo (Cruz) for seduction on the first day of class. He does, however, have an older man's patience, waiting to pounce until the grades have posted to avoid the appearance of impropriety. The possible tension created by the semester-long cooling off period is sadly fast-forwarded in order to rush the couple to the bedroom, and while the fact that Consuela can't possibly be grade-grubbing lessens the seediness present in classroom-set pornography, it also removes the one plausible reason she might sleep with her aging professor. The chemistry between Cruz and Kingsley is non-existant. His old-guy awkwardness couples with her dissociative come-hither to imbue the "love" scenes with the disturbing taint of statutory rape. Kepesh's growing obsession with his former student, upon which much of the story hinges, is rendered absolutely unbelievable. Better is his under-explored arrangement with age-appropriate intercourse-buddy Carolyn (Clarkson), who sporadically sleeps with Kepesh, sans-relationship, but can't abide the thought of him supplementing with other women. Clarkson seems to have better access to the inner workings of her underwritten character, and her support-hose striptease provides the closest thing to a genuine sensual moment in all the coldly detached erotica.
But Kepesh has eyes only for Consuela, or more accurately, her body, which he proclaims a "work of art." Reducing Consuela to the terms of an oil painting seems to be Kepesh's only way to comfortably relate to her, and despite his unconvincing protests of absolute devotion to her (further belied by his continued affair with Carolyn), this misogynistic lack of concern for the heart beating beneath those perky breasts inevitably dooms their relationship. Portraying Kepesh as an aging and unrepenting chauvinist is an interesting decision, but Meyer's script regrettably concentrates on Kepesh's gerascophobia, introducing then practically ignoring a trite assertion by Kepesh's poetic foil, George (Hopper), that "beautiful women are invisible" because men never look past their physical appearance to see the true person inside. Kepesh never heeds the warning, of course, as he's too distracted by heavy-handed reminders of his accelerating decrepitude: dying friends, close-up shots of wilting leaves, and an overtly on-the-nose scene in which he interviews an author about mortal man's pathetic attempts to own immortal masterpieces. Kepesh's superficiality saturates the film, so when tragedy inevitably descends it rings hollow, an attempt at unearned poigniancy through last-minute death and disease, a weak memento mori not worth 100 minutes of your quickly passing life.