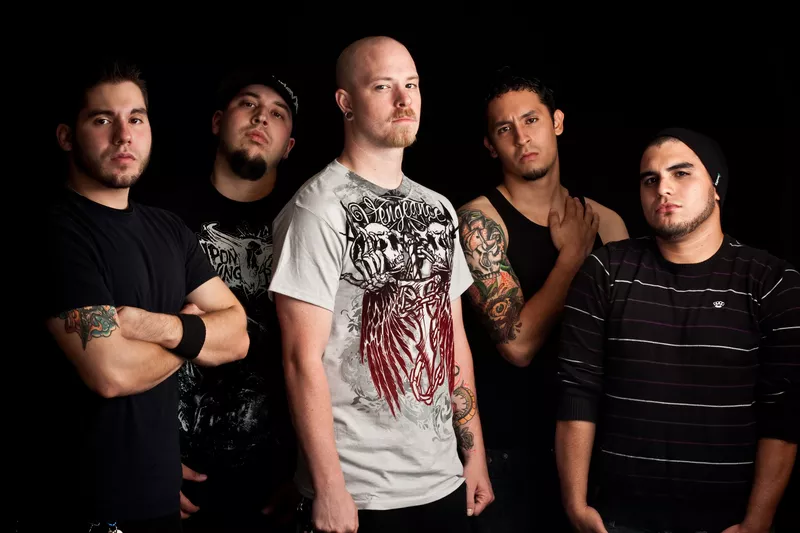 Local metal heavyweights Brotherhood celebrate their new EP, The Struggle, with a release show this Saturday, October 16th, at the White Rabbit. Drummer Dave McConnell said the show is $5 to get in and $5 for a 30 minute EP that the band poured everything they had into — he wants you to spread the word. There are nine bands on the hard-hitting bill and doors are 7 p.m. Below, McConnell and Up All Night talk about Mayhem Fest, networking, breaking in Brotherhood's new singer, and the recording process.
Brotherhood played the Dallas date of the Rockstar Mayhem Festival in August. What was that like?
It was the biggest show that any of us had ever played. We played in front of 12,000 people, and we also got to meet a bunch of the bands. We played on the Jägermeister stage, so we got to meet Chimaira, Shadows Fall, Hatebreed, all those guys. It was bittersweet — for 24 hours, we had a taste of what it would be like. It was awesome at the time, but then we had to come back to San Antonio normal life and we're just another local band again. It was kind of tough. For that day it was an awesome experience, and I know it's something that none of us will ever forget.
Networking is so important though, and sometimes opportunities like that come full circle in an unexpected way.
I know, and that's why we had new demos and promotional materials that we were handing out like crazy. Just hoping something could fall into the right hands. You never know when somebody might take notice, somebody who could actually do something for us on a higher level than what we've already done.
How was Brotherhood selected to play that?
Well we're a Jägermeister band. Jäger picked one unsigned artist to represent them for each show on the Mayhem circuit. In the two years we've been with Jäger, I guess they saw enough hard work and stuff from us, and they picked us to represent them and Texas on the Jäger stage. We were the only band selected from Texas. Unfortunately, they only had one Texas show this year and that was in Dallas.
That's a big deal. There are really good bands on Jäger too.
Apparently it's very difficult to get on Jäger right now. People are always asking us how to do it, and we don't really have a solid answer. We just got their attention somehow, they signed us on, and we've been busting ass ever since just to keep it. But it is a big deal. Without their backing, I don't know any other way we'd be able to get on some of these shows. We're aiming to keep it, and keep working hard for them.
Talk about breaking in your new singer JoJo Badillo over the summer, leading up to that show.
He joined the band, and in two weeks time he had to learn the whole seven song EP that we were set to record. So that was the first part. The second issue was that he'd stepped away from metal about four or five years ago, after being in metal bands for about eight or nine years. It was kind of difficult because he was used to just singing and his throat wasn't used to the whole screaming process anymore.
Brotherhood has a work ethic. We play a lot, we practice a lot, and we expect a lot. Our previous singer Rod's voice was always there and we needed someone who could pull that off. JoJo has gotten it up to par now, where we can play three or four shows in a row and he sounds just as good each night. We have a lot of different things we ask from a singer. We need a guy who can sing and scream. We also need somebody who can control the crowd just as well as the singer before him, somebody that can captivate an audience by having power up on the stage. We basically had to put him through boot camp, and he did it.
How is the new EP the same and/or different from Brotherhood's previous work?
We're trying to hang with everything else that's going on right now. It's not exactly the same, but we still have the hard, heavy, brutal stuff and we have some melodic choruses here and there with the singing. The big change on this one is the last track on the album. It's called "Timeless Serenity" and it's an acoustic track. We have chello keyboards in there, and it's all clean singing with acoustic guitars. With that song, we tried to go into a different direction that opens us up to a bigger market. But for the most part, we keep to the traditional Brotherhood sound that's always been aggressive, with a lot of choruses here and there. We're a heavy, brutal band, and I want to keep it that way. I want to stay true to the old school way the band was started.
Tell me about the recording process this time around.
We started writing before Rod quit back in April. At first, we didn't know what we do, but we decided that we'd put a lot into it, and we wanted to keep it going. In four months, we busted ass and wrote seven songs that we thought were really solid and we practiced about four times a week. The band wrote everything before we even had a singer. At the same time we were writing, we were trying out singers. So that was pretty crazy, but we couldn't really afford to wait around. It was a lot of hard work, but we had to knock it out and transform our band in a four month period.
Where did you record and who did you work with?
Keith Krouse at Monster Music Studios here in town. We recorded the last Brotherhood EP with him as well, and this is the fifth time I have personally recorded with him. He's a very good producer and sound engineer; he always knows how to help us with whatever we want to accomplish.
People know Brotherhood isn't the type of band to sit around and wait. I consider you guys one of the most active and accomplished bands around here.
Not to get an ego about it, but I've actually had people from other bands, even older musicians, come up to me lately and tell me how they look up to us and respect us. And it kind of makes me proud that people see our work ethic, they respect it, and they will actually come out and tell me. You can't wait for things to come to you. That's not how it works, especially nowadays. The way the business is, it's almost 50 times harder to what other people did ten years ago. I'm kind of old school even though I'm younger than a lot of the guys I used to play with. I still use old school ethics. I flyer, I go to the publications, and I go to the radio. You have to keep playing shows, and get in front of as many people as you can. People don't realize that you have to put so much work into it. You have to do it for yourself — you can't rely on outside circumstances, or rely on other people to come to you and just hand you everything on a silver platter.
I appreciate feedback, as it's the driving force behind this blog. Contact me with news, notes, and tips at upallnight@sacurrent.com.