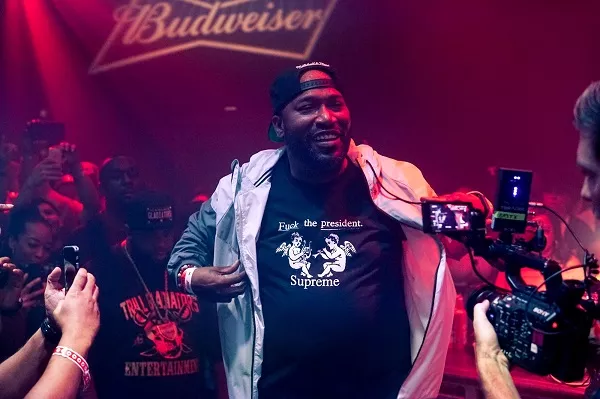 Marco Torres/Houston Press
Bun B's all smiles, wearing the shirt with the most truth.
Most recently, veteran Third Coast rapper Bun B, originally of
UGK
fame (R.I.P. Pimp C), has been in the news primarily for his political activism and his fundraising/aid efforts in the wake of Hurricane Harvey (largely via the
Hand in Hand benefit
).
Indeed, the Trill OG's seemingly tireless work in helping his hometowns of Houston and Port Arthur, as well as other effected areas, has been deeply moving, further solidifying his reputation as a true community leader and an individual who puts his money (and all his effort) where his mouth is.
Dude's also been
a lecturer at Rice University
as a part of a Religion and Hip-Hop Culture course since 2015.
As a rapper, Bun B has released four solo albums. The most recent of these albums, 2013's
Trill OG: The Epilogue
, was something of a compilation of outcasts from the sessions for his first three records (the
Trill OG
trilogy, if you will). Despite the lack of fresh album output from Bun, he's always a consummate performer, drawing upon a movement-making career's worth of classic H-Town hip-hop.
A chance to catch Bun B live, something of a rarity these days as he focuses elsewhere, is not to be missed. In other words:
get your tickets
for his just-announced, November 4 show at Alamo City Music Hall
now
.
Also, just because it's damn cool that it exists, maybe buy
this coloring book Bun B made
with hip-hop/sports wokester (and low-key local treasure)
Shea Serrano
.
Bun B
$25.00-$75, 8pm, Nov 4, Alamo City Music Hall, 1305 E. Houston St., Alamo City Music Hall.