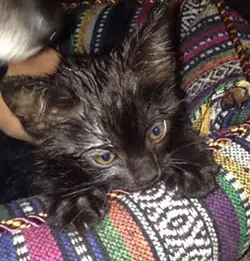 Everyone, meet Rio. (Courtesy ACS)
I'm not one to blog about burgers and fries (oh wait, I am), but this press release sent over by Animal Care Services really caught my eye. Turns out a diet of the aforementioned eats saved the life of a cute black kitten. Cue the symphony of awws.
According to the release, Rio the kitten (as named by the ACS staff) was found near the San Antonio River and brought into ACS by a good Samaritan who lured her out of a brush with a bacon cheeseburger and some spuds. She's a kitten after our hearts that one. Here's more:
Rio was part of an unwanted litter, but she'll get a chance at finding a forever home after she is sterilized. ACS reminds residents that Animal Care Services offers free pet sterilization for residents in target zip codes. For more information and a list of eligible areas, residents can visit www.saacs.net.
Here are the zips:
78201

78202

78203

78204

78207
See, burgers and fries aren't all that bad. We'll leave you with a few more pics of Rio.
Her name is Rio and she dances on the sand (Courtesy ACS)
She's already making friends. (Courtesy ACS)