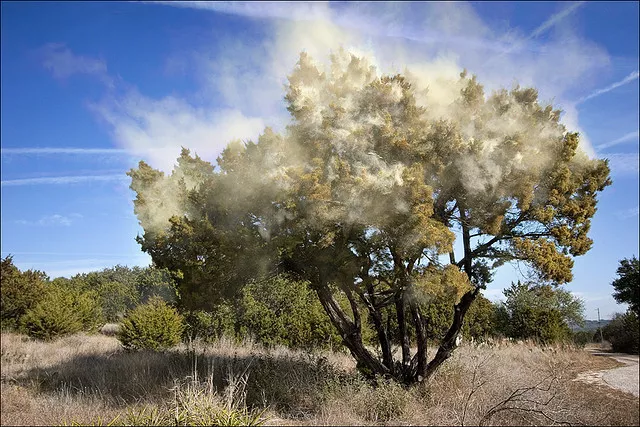 It's a beautiful day, isn't it? A crystal blue sky and cool, enticing breeze offers a much needed respite from the oppressive heat we typically endure for most of the year. Perhaps you have a pleasant outdoor dinner at Stella Public House or go hiking along the Mission Reach.
Oh, that's right. You can't, because with that cool breeze comes the annual onslaught of Satan's demon seed. Yes, as mountain cedar pollinates in its quest to spawn even more mountain cedar, San Antonio is brought to its knees, forced to endure paranasal agony.  
Fuck mountain cedar. It's not even a real tree. It's a shit tree, scrubby and squat and full of evil intent. Clearly what we should do is lay waste to the Hill Country, setting fire to every cedar-choked acre until nothing remains but a scorched earth.
So who's to blame for all interminable coughing fits and excessive mucous production? Well, like most things when it comes to the environment, it's us, or more specifically our unquenchable hunger for meat. (Meat Week starts Sunday, by the way.) According to NPR's StateImpact Texas, juniperus ashei didn't always dominate those Hill Country vistas. As ranchers brought in grass-grubbing livestock into the area, it allowed mountain cedar to creep over the landscape and into our uncle-crying respiratory systems.
And climate change (again, caused by us no matter what Fox News says) is not helping. Increased carbon dioxide in the atmosphere, milder winters, and prolonged drought are all contributing to increased pollen production.
So where can we find relief? The Zyrtec, it does nothing, no matter what they say. Hippies recommend a spoonful of locally cultivated honey, but the hippies are lying. You could always jam a neti pot up your nostrils and flush out your sinuses with a saline solution, but nobody's got time for that nonsense. You could possibly ingest a parasitic worm to alleviate your allergies, but let's be real, you are not going to do that.
Basically, you'll just have to suffer until mountain cedar season ends in February. Then, you'll have a few allergy-free weeks until live oak begins to pollinate and dust the earth in its yellow tree semen in the spring.