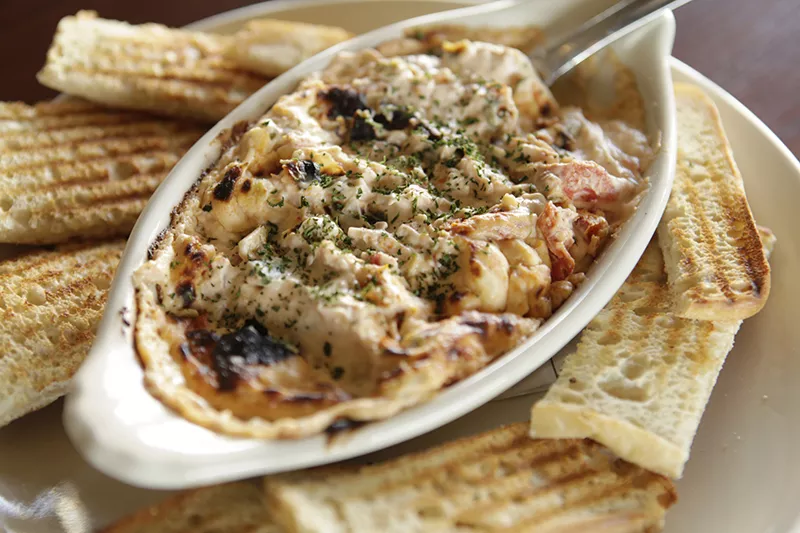 Dan Payton
You'll want to order this addicting Palo Alto dip ASAP.
It's not often San Antonio gets College Station transplants by way of eateries (though I would never pass up on a Harvey Washbangers or their famous chocolate peanut butter pie). That's now changed with the introduction of Napa Flats to the Vineyard Shopping Center off Loop 1604 and Blanco, though I'm still on the fence about whether the restaurant has established its footing.
Opened by Tom Kenney and Tony Abdalla, Napa Flats also has a second location in Tulsa, Oklahoma, which opened in the fall. The San Antonio location followed two months ago inside a renovated Johnny Carino's. Though the interior has been changed, the atmosphere skews in the direction of a fast-casual California Pizza Kitchen. And that's not necessarily a good thing.
Allow me to hop on my soapbox for a minute. Having been to Whiskey Cake several times earlier this year, I feel like there's a way to open a chain without making the eatery feel like such. Sure, owners should want to accommodate the suburban masses that might be familiar with corporate chains at this point, but not to the point of dullness. OK, rant over.
Actually it's not, but to be fair, Napa Flats does deserve some props. The pizza, which commands a healthy portion of the menu, is fired up in a wood-burning oven that gives the eatery a lingering mesquite aroma. For my evening sit-down with my significant other, we chose the "Mush n' Spin'," available in two sizes at lunch (8- and 12-inch) and one size for dinner (12-inch). Served with fresh, quartered mushrooms, spinach and caramelized onions, the pizza also comes with fluffy, whipped ricotta and fresh mozzarella for a balanced pie. The highlight of the dish was the use of single brussels sprout leaves, fried to a crisp and then tossed in white truffle oil for a dainty crunch.
The other nod came via the Palo Alto dip, an addicting concoction that would make a fun addition to any Super Bowl party. Blended sun-dried tomato and artichokes are combined with cream cheese, parmigiano and a delicate mix of herbs, then baked to create a fluffy cheese dip we polished off with decent house bread.
The Tony's pasta, a top-seller of the franchise, is a pretty dish. But while the garlicky Alfredo did come off as homemade, the use of cold pancetta strips to top the offering was strange and didn't really impact the rest of the dish. How exactly does one mute the otherwise flavorful pork belly product?
Another portion of the restaurant that was definitely noteworthy was its "Wine on Tap" program, which included barrels out of Italy, Argentina and certain wine regions of California (including Napa, the central coast, Alexander Valley), with prices ranging from $30-$45 for a carafe and $7-$12 for a glass. My Diseño Malbec was a nice contrast with my mushroom-filled pie with its notes of dark berries, licorice and dark chocolate.
The night ended with perhaps the best feature of the restaurant for those with a penchant for sweetness with a scoop of their house-made gelato. Created by pastry chef Leigha Sutton, the flavors are prone to change daily. Our visit featured a boozy Drunken Elvis with peanut butter and bourbon, as well as bacon, and Nutella. The stracciatella was evenly balanced, and the salted caramel, a personal go-to gelato flavor, was equally great. The upside? You can pick up a scoop or a to-go pack from their tiny gelato station right next to the entry.
Unfortunately, my lunchtime visit, was, well, flat. A Tuscan potato soup congealed almost as quickly as it hit the table. And the Fresno Burger was underwhelming at best. I had hoped the sandwich would have been an intentionally great item — why else carry a burger when you're otherwise known as a Californian/Mediterranean/Italian restaurant? The bun was dry, hardly heated and though the patty included a flavorful ground pork, the lackluster guacamole seemed more accident than purposeful addition. Skip it.
Maybe we went on an off day. Maybe the lunchtime rush was the culprit. But I can't say I'm dying to go back to Napa Flats, other than for a scoop or gelato and maybe a few glasses of malbec to wash away that lunch.
Napa Flats Wood-Fired Kitchen
1301 N. Loop 1604 W., 504-2555, napaflats.com
The Skinny: College Station's Napa Flats joins Loopland with mixed results and a wildly varying menu.
Best Bets: Mush n' Spin, gelato, Palo Alto Dip
Hours: 11am-10pm Mon-Thu; 11am-11pm Fri-Sat; 11am-9:30pm Sun
Price: $7-$19