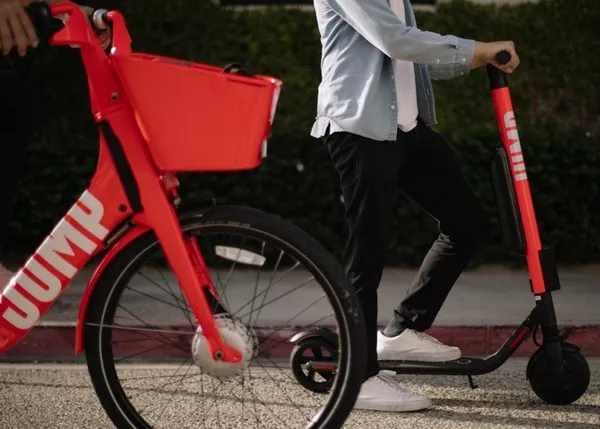 Scooter-haters
rejoice: one member of the dread armies of dockless vehicles has apparently been vanquished.
In the wake of new city regulations, Uber has decided to
take its ball and go home
several weeks before the first wave of permit reductions will go into effect. At the
end of this week
, the ride-share giant's Jump scooters and dockless bikes will disappear from San Antonio streets.
Emboldened by the burgeoning share-economy and the City's initial decision to use a "light-touch" when regulating these vehicles,
seven
e-scooter companies and their fleets lay siege to downtown, resulting in a perimeter of unused scooters surrounding the Pearl, not to mention the hordes clogging up Southtown sidewalks.
As a result of complaints from locals and
statistics
that confirmed that the number of scooters on the streets outstripped their actual day-to-day usage, the council voted to impose new restrictions on the vehicles, starting with the reduction of renewed permits in July and a new rule that riders may no longer scoot on the sidewalks.
Now, there are only six companies left to duke it out in the cage match to bid for the three government contracts and
5,000 permits
that the City will award in the fall. Who will emerge victorious? Only time will tell.
Stay on top of San Antonio news and views. Sign up for our Weekly Headlines Newsletter.