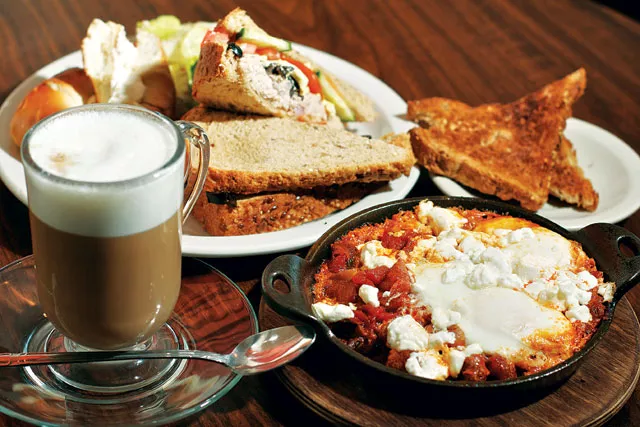 Steven Gilmore
Kosher treats from Cafe Aroma.
I have a suspicion — based perhaps on how difficult it is for most people to down a shot of ouzo without toasting to their own health — that Americans still want their food blessed. One of the easiest and most ancient ways to have this happen is, of course, to get some holy man to pray over the grub. We're a busy people. We've got work, or else we're looking for work, or else we're looking to get away from work. And we sacrifice a lot of sanctity to get the quick or personal service we desire. I mean, I've seen billboards advertising late-day fellowship for the family that would like to do brunch before they sit in church.
Cafe Aroma, which opened its doors in 2011, just might be the answer to the networking nosher's prayers. Here is a place where you get smoked salmon and mushroom bourekas with your Italian espresso. With all the Italian options on the menu, Cafe Aroma is a little less Jewish looking than you might imagine, but it's definitely, even defiantly, Mediterranean. If I was naming the place I would stick to a series of descending M's that people could imagine stood for mama or Moses or meridian and read as a series of approving "Mmm" sounds. As it stands, Cafe Aroma is unassuming and cozy, very business friendly, and far less intrusive and standardized than your last visit to Starbucks. There's no booze and they are not open late or on the actual Sabbath, of course, but their Cafe Americano rules, and their Shakshuka (eggs poached in spicy tomato stew that you dip at with bread) is what anyone well accustomed to huevos rancheros should happily turn to on their lunch hour. Everything's kosher and the owners seem nice, so what else do you want?