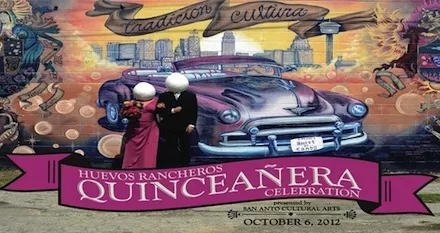 San Anto Cultural Arts Has been mentoring teens and putting up murals on the Westside since 1993. With now 44 huge artworks in place, their Community Mural Pubic Art Program is one of the largest long- running mural projects in the U.S. SACA also publishes El Placazo Community Newspaper, manages a video oral history program, and provides other support to neighborhoods.
But it all takes your support. If you are an artist (or collector) here's a chance to give back to a community- based nonprofit that is integral to the arts in SA.
Celebrating its 15th year, SACA is currently accepting art submissions for its 2012 Huevos Rancheros Quinceañera Celebration Breakfast Gala and Silent Art Auction, to be held October 6. Deadline for submission is September 14.
The event was created in 1998 to raise funds for programming and general operating costs. Held annually in October, the Huevos Rancheros Gala is much more than a fundraising event. Each year the gala honors King and Queen Huevo of San Antonio - two individuals who are chosen for their contributions to the arts and cultural vibrancy of our city. This year's King Huevo is prominent visual artist Alex Rubio, and Queen Huevo is San Antonio's first Poet Laureate, Dr. Carmen Tafolla. For submission guidleines and more info, visit sananto.org