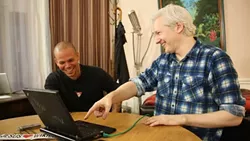 Puerto Rico's Calle 13, one of the most critically and commercially successful (and most polarizing) acts in Latin alternative music, unveiled the teaser for "Multi_Viral," a song produced in collaboration with WikiLeaks' Julian Assange. Also featured in the song and teaser: Rage Against the Machine's Tom Morello and Palestinian vocalist and musician Kamilya Jubran.
As reported by Billboard, the full song will premiere on November 13, and the new album will be released independently in March 2014. It will be Calle 13's first album since their split with Sony Music Latin.
Using the hashtag #JulianAssangeCalle13, the duo sent out social justice and "bad media" questions to their fans, and the song was constructed based on the thousands of replies they received. In June, Calle 13's René Pérez ("Residente") visited Assange at the Ecuadorian Embassy in London.