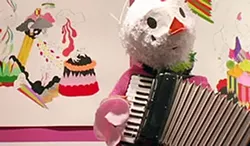 Release Date:
2007-07-18
CAM 2007 is just as crowded with best-show contenders as 2006 was (hot tickets to date: Franco Mondini-Ruiz at Soho wine bar, curated by Chuck Ramirez;
Play and Re-Play
at UTSA Satellite Space; Ethan Moore at Ahern Studios to name a handful), and this weekend two more Best Of candidates open.
Olmos Famous
at Galería Ortiz features the thankfully ubiquitous Mondini-Ruiz playing curator to a panoply of familiar and new talent, from Ramirez to Aaron Forland (Keep San Antonio Lame) to Andy Benavides (Gallery one9zero6) to Sala Diaz founder Alejandro Diaz. Complementing Mondini-Ruiz's unofficial CAM retrospective, sculptor and UTSA mentor Ken Little gives the public a peek of that ol' Rrose Amarillo magic (take the Duchamp reference to heart) with
Rrose Rrizin'
, a group show featuring among others that enchanting accordionatrix Bunnyphonic (who's also on the bill for
Olmos Famous
). Little and fellow artists Constance Lowe, Clare Little, and Rick Martinez will also open their studios for the evening. See Camsanantonio.org and the CAM calendar, page 20, for details.
— Elaine Wolff