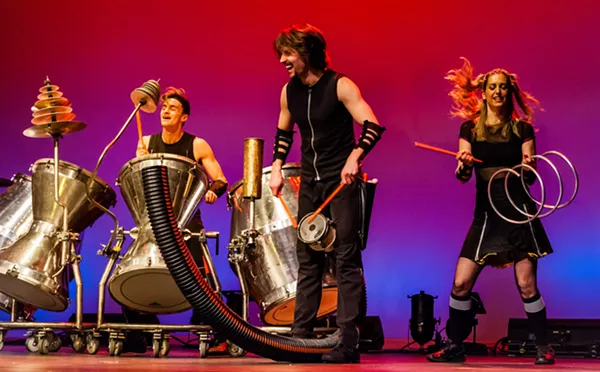 Courtesy of Scrap Arts Music
Formed in Vancouver, Canada in 1998, Scrap Arts Music bills itself as an "internationally renowned, athletic next-generation percussion ensemble." Informed by the backgrounds and passions of founders Gregory Kozak (jazz, world music, avant-garde composers) and Justine Murray (design, stage direction, vernacular architecture), the outfit brings a truly fusionist approach to physical performances of entirely original pieces. Arguably as unusual as the music itself, the five-piece group's traveling arsenal of 145 instruments (welded together from salvaged scrap and "offbeat materials ranging from accordion parts to artillery shells") weighs in at nearly two tons. Promising a "delightful musical journey that the entire family can enjoy," Scrap Arts Music brings its high-energy act to the Majestic for one night only, courtesy of Arts San Antonio.
$29-$99, 7:30pm Sat. Mar. 25, The Majestic Theatre, 224 E. Houston St., (210) 226-3333, artssa.org.