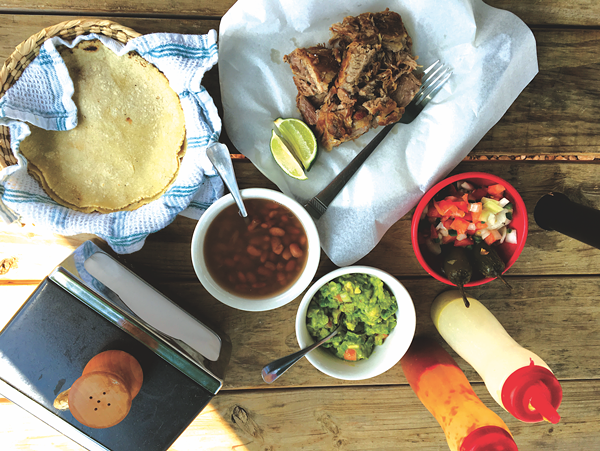 Blue skies, puffy clouds, light breeze; chunky carnitas, great guac, savvy salsas … all brought to your picnic table by possibly the best smile in the city's serving fraternity: Get yourself to Carnitas Lonja.
After a closure hiccup occasioned by a Health Department "misunderstanding," the little carnitas cabaña that could is back in business, coffers lightened by the several thousand dollars in expenditures (some help provided by a GoFundMe type campaign) required to install a massive exhaust hood, redo plumbing and more. And though I truly hate to report that the carnitas are now cooked inside, not in a screened exterior annex, and are even better than before, that's my solemn opinion.
As before, you order at a counter in a space that's often hotter than the tables under the trees. The kitchen, now visible, is complete with its requisite cocinera, though Michoacan native and former Lüke cook Alex Paredes is still in charge. Breakfast is not currently being offered, and the menu is consequently shorter: carnitas by the pound ($14/$7 with tortillas, jalapeños and salsas), a carnitas taco ($3), a bollilo torta with carnitas and beans ($7), and various sides to include a chunky guacamole good right out of the gate — no lime or salt required, simple soupy beans swimming in a flavorful liquor, chicharrones and chorizo. The corn tortillas (sorry gringos, no flour) are thick and primal, the pico de gallo fresh and just chile-spiked enough, and the two squeeze bottle salsas play yin to yang: one rustic-red and robust, the other creamy, green and avocado polite. There are authentic aguas frescas.
But back to best-in-town-contender carnitas. They were served in an almost pristine stack, glistening with just the barest gloss of fat. I had asked for some crust, but would have been hard-pressed to pick a favorite between the moist and porky interior parts and the barky exterior — so let's call it a draw. It's almost a shame to profane the pork with salsas. But it's equally impossible to imagine not using them. And by all means slather on some guacamole. I have sampled the torta in the past, finding it fine, but prefer to get only the corn tortilla between me and the meat. Insider tip: bring your own beer; you can amp it up with CL's michelada set-up if desired.
So yes, pig in the breeze, under the trees … and with remarkably few flies. I had frankly thought that the Mexican folkloric trick of keeping moscas at bay by hanging plastic bags of water here and there was just an old tia's tale, but something is working. In fact, everything's working.
11 a.m. to "runout" Tues.-Sun.
Delivery available through Uber Eats