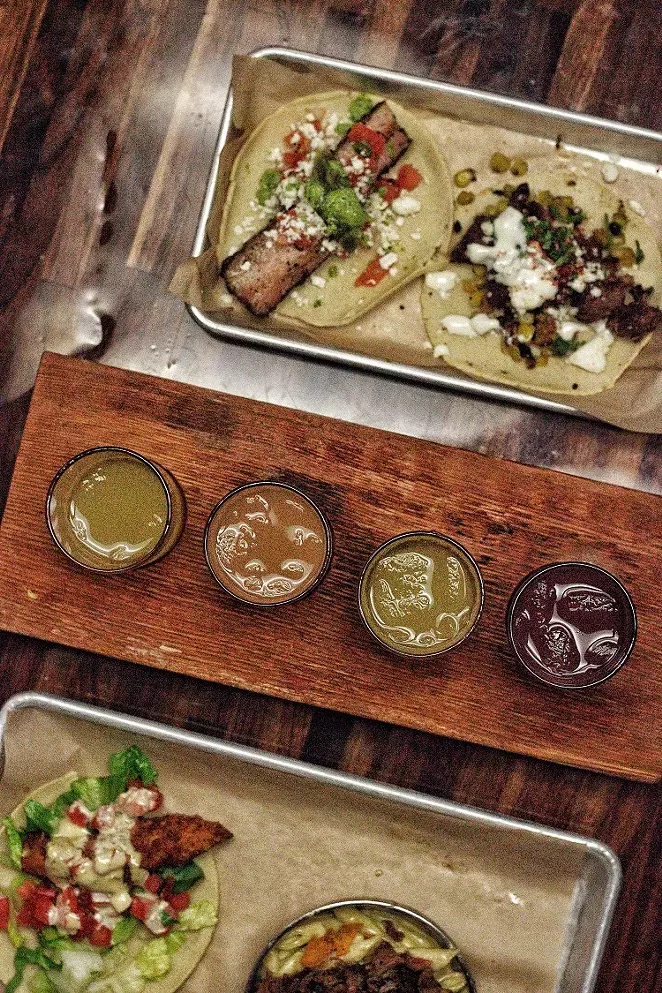 Erin W.
Tacos and Sangria
Sangria on the Burg, owned and managed by chef Ceasar Zepeda, opened back in September and has been a popular spot ever since. It boasts a great happy hour where you can save $1 on most of the drinks on their menu, and $2 on crafts of sangria. In addition to a great happy hour, the hoppin' restaurant offers a great discount on everybody's favorite day of the week, Taco Tuesday.
Every Tuesday all six tacos on the menu are priced at $2 and served a la carte, where normally you would pay $10 and get two to an order plus a side. Having a variety of tacos ensures that Sangria on the Burg has a taco for everyone. During my visit, I ordered two tacos. First, the pork belly taco. It was a generous portion, served with pico, avocado, cojita cheese and a pepita-jalapeño sauce. The second taco was the skirt steak, lightly charred and served with corn, chile limon, and queso fresco. The menu also features a brisket, fish, chicken, and even a mushroom taco, to keep Taco Tuesday veggie friendly.
With these great deals, Sangria on the Burg can get pretty packed, if you come in after 6:30 p.m., you can bet on having to wait for a table. With a packed restaurant, especially one that's located in a busy strip center, parking can become a bit of an issue. To remedy this issue Zepeda is offering an order of chips and queso on the house if you take an Uber or Lyft to the dinner spot. It's his way of helping out surrounding businesses with parking and to treat customers that are helping to alleviate the stress as well.
While happy hour does occur daily, Taco Tuesday only happens one day of the week (that is, until we make Taco Thursday a thing). Though it is suggested to hitch a ride to Sangria on the Burg, or at least carpool, there is no denying that no matter how you get there, you're in for a good time and a great meal.
5115 Fredricksburg Road, (210) 744-1448.
<!———EndFragment———>