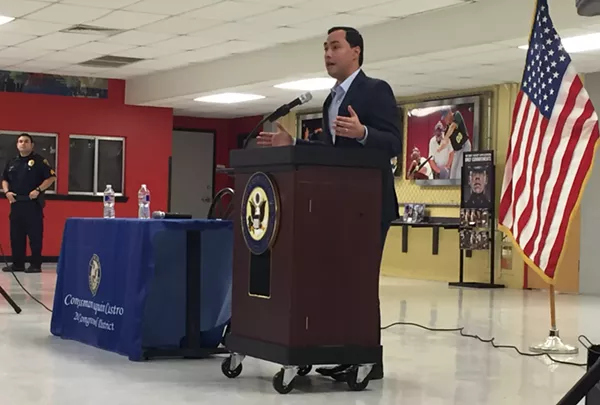 At his Monday night town hall, Congressman Joaquin Castro didn't tiptoe around the looming uncertainty on Capitol Hill.


"We are in the eye of the storm, y'all," he told the crowd of 500 packed into Memorial High School's basement cafeteria — the school where his father once taught. "There's no leadership [in the White House], and because of that there's a lot of chaos on so many of these issues."

Castro, who's been vocal in his interest to seriously investigate (if not unseat) President Donald Trump since the election, sent a clear message of resistance to his Congressional District 20 constituents — without appearing divisive. Throughout the evening, he interrupted himself to remind the audience he was speaking for himself — and knows his voters have diverse, bipartisan beliefs.

"I hope we can remember that everybody is basically on the same team,"
said Castro, standing before a pair of U.S. and Texas flags. When elected, he made a promise, he added, "to try to always listen to to people even when we disagree... and try to explain to people why I believe what I believe. If they disagree with you, at least they know where you stand and why."

This stands in stark contrast to the statement many Republican members of Congress have made by avoiding any meetings with local constituents (despite the public's ardent requests) since Trump's election. While Sen. Cornyn and Rep. Lamar Smith dodged pre-planned public events, complained about too many phone calls, or claimed their constituents' genuine concerns were part of a "campaign by the establishment," Castro (like fellow San Antonio Congressman Lloyd Doggett) stayed an hour past his event's end time in an attempt to answer every question floated his way.

And there were many.


"Will we soon have to show our birth certificates to enter a public restroom?" read one of the many audience questions.


"I think [Lieutenant Governor] Dan Patrick's
campaign is
based on a lot of fear," said Castro. "The campaign has been that these big hairy men are going to go into a restroom and attack your daughter. But we're really talking about little kids struggling with gender identity." This answer was followed by loud applause.

Castro was also pushed to detail his fight to impeach the president, one he announced after Trump issued his original ban on immigrants from Muslim countries.


"Nobody runs for Congress because they want to impeach a president," he reminded the audience. But Castro also said that if the courts find Trump's updated refugee ban unconstitutional, he's not afraid to bring impeachment up again.

What about the investigation into Russia's involvement in the 2016 election, an investigation requested by the Congressional intelligence committee Castro sits on?


"Well, there's only so much I can say without being taken away in handcuffs," he said. "But for now, the
answer is unclear. The investigation is ongoing. What I do know is that there's a big gap between what committees are being told and what information is actually out there."


Many people asked about the shifting immigration laws, especially since Castro had recently met with immigration leaders in D.C.

"I have family and friends who don't have documentation, and I'm worried about them," said audience member Gabriela Serrano. "I want to know if he'll fight the administration to keep families together."

One person asked Castro what they're supposed to do if a federal agent asks them for immigration papers, but they're a U.S. citizen.


"Well," said Castro, with a grin, "I suspect if you're an American citizen, you say I'm not going to answer any damn questions." He went on to tell the audience to educate themselves of their rights as a U.S. citizen, and keep any identification they have on hand — just in case. He reiterated his belief that federal immigration authorities are now determined to go after "as many people as possible."

Jeffrey Bouyer stood in line after the main event to ask Castro about getting his wife an immigrant visa — he's worried it'll be denied because he's a Muslim. But he was enthusiastic about Castro's appearance.

"It's awesome he showed up here. Any and all lawmakers should have to deal with the people that elected them," he said. "They need to rub shoulders with their voters."