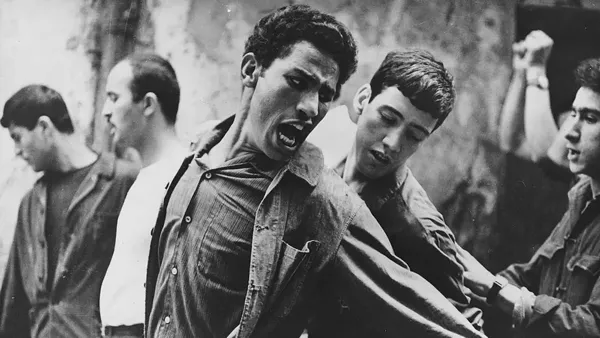 Rizzoli / Rialto Pictures
Situated on the Mediterranean coast, the North African country of Algeria boasts a rich and complex history that encompasses ancient dynasties, pirate raids, slave trading and Spanish and French occupations.
In 1830, the territory was captured by France, which killed hundreds of thousands of indigenous Algerians during colonization. In 1945, a Muslim uprising led to riots, demonstrations and killings collectively known as the Sétif and Guelma massacre – which eventually led to the Algerian War (1954-1962) that restored Algeria's independence. Only four years after the war had ended, Italian filmmaker Gillo Pontecorvo (1919–2006) set out to tell the story of marginalized Algerians with his gritty, "fictionalized documentary"
The Battle of Algiers
.
Considered among the most important political movies in the history of cinema, the film employed non-actors, newsreel-style footage and other hallmarks of Italian neorealism. The Criterion Collection sums up its stark depiction of warfare concisely: "As violence escalates on both sides, children shoot soldiers at point-blank range, women plant bombs in cafés, and French soldiers resort to torture to break the will of the insurgents." As relevant and arresting as ever, the classic comes to light at the McNay as part of a quartet of political/revolutionary films curated by local filmmaker AJ Edwards.
Free, Thu Sept 27, 7pm, McNay Art Museum, 6000 N. New Braunfels Ave., (210) 824-5368, mcnayart.org.

Get our top picks for the best events in San Antonio every Thursday morning. Sign up for our Events Newsletter.