Jaume Collet-Serra - Orphan
By Kiko Martinez
San Antonio Current contributing writer
Growing up in Barcelona, filmmaker Jaume Collet-Serra always found himself watching the American movies that played at the local theater. "I grew up learning a lot about American culture from the movies I watched," Collet-Serra told me during a phone interview. "That's why now I can make American movies for American audiences."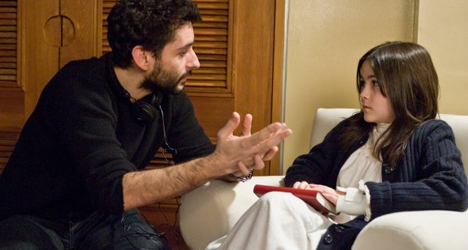 His love for movies led him to attend film school at Columbia College in Los Angeles in the early 90s. Soon after graduating, Collet-Serra began his career as an editor before moving on to direct music videos and television commercials for companies such as PlayStation, Budweiser, and Verizon.
In 2005, Collet-Serra was given an opportunity to direct his first feature film by producer Joel Silver (The Matrix). The movie, House of Wax, was a remake of the 1953 original of the same name. Two years later, Collet-Serra directed the sequel, Goal II: Living the Dream starring Kuno Becker.
Now, he reunites with producer Silver for the third film of his career, Orphan, which opens in theaters today. The thriller stars Vera Farmiga (The Departed) and Peter Sarsgaard (Kinsey) as Kate and John Coleman, a couple who adopts a 9-year-old girl named Esther (Isabelle Fuhrman) and soon discovers she is not as sweet and innocent as she led them to believe.
Was there a particular movie you saw when you were a young boy going into the theater in Barcelona that made you realize you wanted to become a filmmaker?
I don't know if it was one movie or one filmmaker that inspired me. For me, I was fascinated with the worlds in movies I saw as a kid. I wanted to be a part of it. When I found out I could do it as a job, there was nothing else in the world I wanted to do. After I knew I wanted to be involved in moviemaking, it was all a matter of finding out how to accomplish that goal.
Who inspires you as a filmmaker?
I'm a big fan of Roman Polanski, `Alfred` Hitchcock, and Spanish director Luis Buñuel. I like directors that are very psychological. Buñuel is very surreal. They all have great imagery. Their movies entertain, but at the same time they like to explore the human condition.
I read that the trailer for Orphan had to be changed because viewers complained about one of the lines. (According to reports, Warner Bros. removed the line "It must be hard to love an adopted child as much as your own" after receiving complaints from adoptive parents and foster care organizations). Do you think that was a reasonable request?
Our goal is to entertain and make movies. Our goal is not to offend anybody. If someone was offended, I think it is reasonable to ask to change one line in the trailer. If it's in the movie, I'm not going to change something because someone is offended. A trailer is more understandable.
I read that you spent a lot of your childhood in a boarding school, so can you empathize with the character Esther in that you didn't grow up in a normal home situation?
Definitely. It was something I would have loved to explore more, but unfortunately in this movie the scenes where we see Esther in the orphanage are very short. If we had more time at the beginning, I would have enjoyed exploring aspects from my own personal life. As a child, when you are separated from a normal family environment, it makes you stronger as a person.
What kind of actress were you looking for to play Esther and what did you see in a newcomer like Isabelle Fuhrman to cast her in the role?
We were looking for somebody who was really smart and talented obviously and someone who was believable in the role. That's what we got with Isabelle. When she read for us, she had strong convictions behind every word she said. That's very difficult to find in a child. The script asked for a blonde girl. When Isabelle came in she was very different than what we were looking for physically. But we immediately liked her and created the character to fit her. She has great eyes and the way that she looks at you is very interesting and creepy.
Was it difficult to explain the tension you wanted to portray in this film to someone like Isabelle, who can't even see her own performance at the theater without her parents since it's rated R?
It isn't difficult when you break it down in pieces. You still get all the tension, but it's just make-believe. There are moments in the movie that are scary, but we were just careful and we were in constant communication with her parents and made sure she understood the scenes.