By Kiko Martinez
San Antonio Current contributing writer
Whatever you've heard about the remake of Wes Craven's 1972 thriller The Last House on the Left, which hit theaters in March, actress Sara Paxton, 21, says not to underestimate just how controversial the new film is when compared to the original.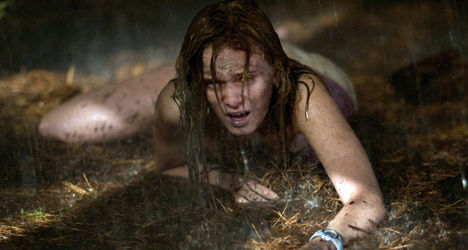 "I know a lot of people would say the new version is not as controversial, but I would have to highly disagree," Paxton, who is of Mexican descent from her mother's side, told me during a phone interview. "I snuck into a couple of theaters and sat in the back so I could see peoples' reactions. People were shouting at the screen. Some were crying and freaking out. When my friends went to see it, some of them couldn't look at me in the eyes for days."
In the remake, Paxton plays Mari Collingwood, a young girl who is brutally raped and left for dead by a group of cold-blooded assailants. Unlike in the original, Mari survives the assault and is able to find her way back home where he parents have unknowingly allowed her attackers to stay the night after their car breaks down in front of their house.
The Last House on the Left was released on DVD and Blu-Ray Aug. 18.
We're always seeing remakes come out of Hollywood, so what makes The Last House on the Left stand out from the rest?
There's definitely a lot of remakes but I was really proud of Last House on the Left because I thought the whole crew involved really wanted to make sure that it wasn't just another remake and that we respected the original and didn't try to copy it word for word. We wanted to do something unique with the same story. I really think we did that.
What would you say to people who think that the reason we are seeing so many remakes is because Hollywood is running out of ideas?
It's funny because I'm one of those people. When I see something that's a remake I get all pissed off especially if it's one of my favorite movies. But I think we tried so hard to keep other people in mind while we were filming this movie. We really wanted to make them happy.
So, 50 years from now, when someone remakes The Last House on the Left again, you're going to be pretty angry?
(Laughs) I can't be because then that would be hypocritical. Now that you say that, I totally understand how the original actors would feel. But Wes Craven was remaking his own movie and we all wanted to make it really good. If it was a crappy movie, I think that would be a bigger disrespect.
A lot of your scenes in this film are very graphic and might be difficult for some people to watch. Were you able to leave everything on the set or did you bring some of those feelings home with you every day?
When we were filming these emotional and physically-challenging scenes in the woods it helped that the actors had bonded so strongly. Everyone was so caring. Since I was working with friends it was very easy to leave it on the set.
I read the rape scene is actually an entire minute longer and that the MPAA was pushing for the director to cut back.
It was this huge battle from the beginning because our director Dennis Iliadis wanted all those scenes to be five minutes longer. Our editor would received the dailies and he was like, "I'm offended. I'm shocked. I have a 15-year-old daughter. I refuse to edit this material."
What was producer Wes Craven like to work with on this project, since he is basically remaking his own movie?
He was more like the Wizard of Oz — the man behind the curtains. He was really involved in everything, but he was manning the controls backing in the states since we filmed the movie in Africa. His son, Jonathan Craven, was an executive producer on the movie and he was amazing to work with. I was a great set to be on. They really cared about us, especially me because I was the youngest out of the group.