Paola Turbay - The Cleaner
By Kiko Martinez
San Antonio Current contributing writer
Colombian actress Paola Turbay's first role in an American television show did not end the way she would have liked. As the character Isabel Vega in the short-lived CBS series Cane, which starred Jimmy Smits as the head of a Latino family in the rum business, the show was one of the many that was cancelled after the Writer's Guild Strike of 2007.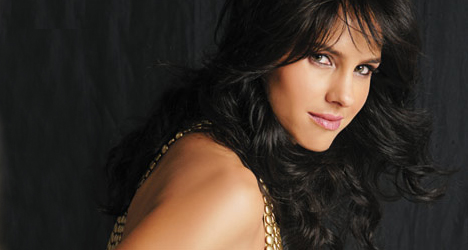 The rough start, however, didn't discourage Turbay from continuing to build on her acting career. Since the strike, which ended in February 2008, Turbay has landed roles on a number of TV shows including Californiacation, The Closer, and The Secret Life of the American Teenager.
On Sept. 1, she will make her debut on the A&E drama The Cleaner with Benjamin Bratt. In the episode titled Standing Eight, Turbay plays Angie Carmichael, the wife of a drug-using boxer who is also an addict herself.
What kind of research did you have to do for this role? Did you have any conversations with real drug addicts?
Well, I majored in psychology before studying acting. When I did my internship in college, I worked with some addicts. I also know people that are addicts. And then, of course, I had my drinks (laughs). I know exactly how it feels and what it looks like after I have two glasses of wine. I was very conscious of my muscles and how they would relax. I think I tried to make the performance very organic. Of course, you have to observe and watch people. I brought it all together and I think it's really good. I'm extremely proud of myself.
How did you get from psychology to acting?
Well, when I was young I would always perform. I would sing and dance and do anything related to the arts. I really wanted to move to New York because I wanted to be on Broadway. I was supposed to move there with an aunt of mine, but she was transferred to Puerto Rico. My father was very protective and he would have never let me go to New York on my own. So, I stayed in Colombia. I started studying psychology, which I always liked. I would still take acting classes. Then, I started working in television when I was in my second year `of college`. Even though I knew I wasn't going to be a psychologist, I just finished because I really liked it and wanted to get my degree.
So, besides your role in The Cleaner, has your degree in psychology actually helped you in your acting career?
I always felt I had the ability to analyze people. I am very perceptive. I could always connect easily with people. I think when you go to college and study for a certain amount of years your skills get refined. As an actress, it's very helpful because I've been exposed to a lot of cases and I know how the psychological structure works. I have a degree that helped me analyze different kinds of personalities and disorders.
Since your character is the wife of a boxer who is a drug addict, do you have any thoughts - as someone who knows a lot about psychology - on the professional athletes who get caught taking banned substances?
When you think about somebody that is involved in sports or exercises a certain amount of hours during the day, you don't expect them to have addiction problems or be involved with drugs and alcohol. I mean, you get a high with exercise alone. Some of these athletes have a psychological condition. Usually when you're an addict you suffer from some kind of depression. You have to be able to separate these two aspects of your life. I think people should be able to understand that. I think sometimes people judge to harshly. I think everybody has their ups and downs and their problems and everybody has a certain way of solving them. Some people, unfortunately, think that `drugs` are the only way they can sooth their pain.
Do you want to continue doing television? If so, what is it you want to find in this industry?
I've done television for a long time, here and in Colombia. Every actor wants to do features. Thank God we can cross over and do features and TV at the same time. I would always want to audition for both. Cane brought me to television here in the U.S. and that's why I stayed on television.
I think Cane was a show that had a good chance of surviving if it wasn't for the writer's strike. Was the cancellation of that show heartbreaking especially since there rarely are shows that center around Latinos like that one did?
It was very heartbreaking. We felt for the first time that there was a show where Latinos were put in a place where they were important and powerful and well-educated — exactly where Latinos are today. A few years ago Latinos were just immigrants. Now, they are second and third generations that have power and influence. That was what we were doing on Cane. We were so proud of it. Unfortunately, the writer's strike killed us like it did to all the shows that season. We had a good audience. It was a show that was growing and was very well-respected. It was like a Latino Godfather. Where it was going was so incredible. It was very sad to see it just vanish.