Adam Rodriguez - I Can Do Bad All By Myself
By Kiko Martinez
San Antonio Current contributing writer
After eight years on CSI: Miami actor Adam Rodriguez is ready for new experiences. His first comes with his role in director/writer Tyler Perry's new movie I Can Do Bad All By Myself. In the film, Rodriguez, 34, plays Sandino, a Mexican immigrant who moves into the basement of the film's night club-singing main character April (Taraji P. Henson).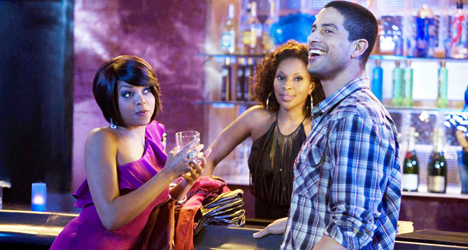 During a phone interview with me last week, Rodriguez, who is of Puerto Rican and Cuban decent, talked about why he thinks Perry is a genius at what he does and what it was like working with an Academy Award-nominated actress like Henson.
I talked to actress Eva La Rue last week and she mentioned how much everyone is going to miss you on CSI: Miami now that you're leaving after this season. What can you say about your time on that show?
It was a great eight years to spend there. It was my life. I'm definitely going to be sad to go. I'm going to miss the people I work with everyday. I'm lucky in a sense that I'm getting to have a slow departure. I'll be there in and out for 10 episodes throughout the season. You'll get to see `Eric` Delko fade away slowly, so hopefully it won't be as painful as just having the character disappear.
Does your departure now mean you are going to focus on your film career?
Oh, absolutely. I had such a great time making this film. If I can continue to have these kinds of experiences making movies then, yeah, I would love to have a career in film. With that said, I'm open to doing great television, too. I'm going to be doing seven episodes of Ugly Betty starting this weekend in New York. I'm really looking forward to doing some comedy. This is a show that has really been groundbreaking for Latinos in a big way.
What was it like shooting I Can Do Bad All By Myself on Tyler Perry's studio in Atlanta? I've heard it's like a world of its own.
You are inspired when you set foot in there. You're just like, "My God. I can't believe that someone had the guts to say, â??You know what, I don't need to be in Hollywood. I'm going to create my own Hollywood here in a totally different place that people would never expect.'" It makes you feel like you're not working hard enough, that's for sure (laughs). But it makes you feel proud. You go out and you're part of something really amazing and something that is groundbreaking and changing the way people are probably going to be doing things moving forward.
Well, Robert Rodriguez also has his own studio in Austin, so do you think more filmmakers will start realizing they don't need Hollywood to actually make movies?
I do think `filmmakers` that want to work in their own bubble and have the power creatively and financially to do so will do that especially when you get artists that have such great relationships with their audience the way Tyler does and the way Robert Rodriguez does. I think more people will be inspired. There's only going to be a small handful of people that can get away with that but I think these two guys are inspiring others to do the same.
What do you think it is about Tyler's films that resonate with his audiences?
I think that Tyler is great at tearing down the BS and really getting to the heart of what each character is all about. Often times, people want to put too many layers on characters. Yes, people are complex and complicated beings without a doubt, but I love the way Tyler isn't afraid to strip them down and give you the essence of who they are in order to tell the story concisely and simply and be able to have you sit there and enjoy a movie and not necessarily have to be confused with clutter. I think tearing down the characters and making them simple and relatable to people is what has allowed him to have such a broad audience. So many people can relate to the qualities that he decides to put forward from these characters. His movies are really palpable across the board through every demographic. There is a lot of genius in that.
Tyler churns out so many movies so quickly. Do you think that's a good way to produce films in this industry? Some directors wait years between projects.
I don't think anyone knows how long they're going to be on top. Tyler is a guy that loves what he does and wants to do it as much as possible and deliver to the audience what they're craving. Tyler is serving an audience that has been so underserved and ignored for so long and that's why he's putting movies out in rapid succession. Tyler can have a career for a lifetime before he could satisfy what that audience has been lacking for so long.
What was it like working with someone like Academy Award nominee Taraji P. Henson and what does she bring to the film?
She absolutely carried the film. She had a tremendous about of work to do. It was an emotional rollercoaster for her. She and Tyler worked really well together. He really knew how to get what he needed from her, and she knew how to deliver it. As far as working with her, it was amazing. We had a great time from the moment we met to every time we've seen each other since. I made a friend for life. I had the most fun working with Taraji than I had ever had working with anybody. We had a lot of laughs and great chemistry. I hope people will get that when they see the movie.
Tyler has millions of fans who love his work, but he also has his critics. What would you tell those people who say that Tyler creates characters that only highlight racial stereotypes?
I think that's BS. The people he portrays, they do exist. I think Tyler was courageous enough to say, "Look, these characters exist in the real world." That's why so many people go see his movies. We all know people like this. It doesn't matter what culture you come from. We all have these characters in our lives whether you're black or white or Latin. You know someone with these types of personalities. Maybe the verbiage is difference or the clothes are different but character wise, we all know some crazy woman like Madea. There are always going to be people that don't get what someone is doing or don't want to get it. Some people are going to complain that it's stereotypical. I think that movies are made to make people feel things. He knows the things people identify with. They're all positive characters regardless.
You said Tyler is providing the African American audience with something they haven't had in a long time. Do you hope someone can do the same for a Latino audience?
I'd love to see that. The opportunity is prime for that. I don't know who that person is going to be. I know Robert Rodriguez has created that in a way in Austin. I would say he is the closest in doing what Tyler has done. I would love to see more people step up and do that.