Eva LaRue - CSI: Miami
By Kiko Martinez
San Antonio Current contributing writer
Actress Eva LaRue remembers what it was like for Latinas in the television industry when she started her career back in the late 80s.
"Twenty years ago when I first got into the business there was literally no Latinas working in primetime television unless they were the odd recurring role as the maid or the hooker," LaRue told me during an interview to promote the new season of CSI: Miami, which airs on Sept. 21. "It was pretty pathetic. Now, it has come so far."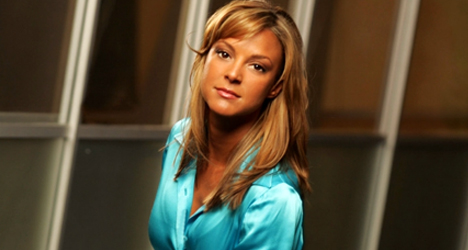 From actresses like América Ferrera to Roselyn Sánchez to Sara Ramírez, LaRue, who is part Puerto Rican, says she is proud to be one of the many Latina actresses currently making their mark on primetime television. Like Ferrera, Sánchez, and Ramírez, LaRue is also getting noticed. As DNA analyst Natalia Boa Vista on CSI: Miami, a role which she began in 2005, she was recently nominated for an Alma Award for Best Actress in a Drama.
The NCLR Alma Awards air on ABC Sept. 18 at 7 p.m. The season premiere of CSI: Miami airs on CBS Monday, Sept. 21 at 9 p.m.
Where were you when you got the news of your Alma Award nomination?
I got the news while my daughter and I were on vacation in the Bahamas. We squeezed in one last vacation before school started again. We had a blast. `My publicist` called to tell me I got the nomination. It was unexpected and awesome. I love the Alma Awards.
I know you've won a couple of Alma Awards for your work on daytime TV. Are accolades like this important to you as an actress?
If you make them important it's probably a big mistake. This business is so fickle. One year you could be considered awesome, the next year you could be considered the worst actress on the planet. It's always flattering and certainly exciting, but I never wait and hope for those kinds of things. I just press on and do the best I can.
Do you think shows like the Alma Awards and others like the Image Awards, which separate actors by race, are good for Hollywood?
There are way more Latino actors and actresses working now `more` than ever before, because sadly there isn't enough really big Latino television stars. There's Eva Longoria and there'sâ?¦Eva Longoria. Then there are fewer than 10 huge Latina film stars — Jennifer Lopez, Salma Hayek and Jessica Alba. To let everyone be represented we need our own awards show.
You told TV Guide that Season 8 of CSI: Miami is going back to the show's roots. Can you explain?
It's definitely going back to what they were doing in the first couple of seasons where everyone is working together as a team. We're not going to be paired off as much. David `Caruso` is going to be back in the lab a lot more this season. Delco (Adam Rodríguez) is obviously leaving this season. `Rodríguez` is simply irreplaceable, but things happen. There are a lot of changes this season, it's going to be really good.
Speaking of Adam, he's now starring in Tyler Perry's new movie. I know you did a feature film last year with Samuel L. Jackson (Lakeview Terrence). Would you like to do more film?
I would love to do more film. We're contractually bound to CSI so during the season it's hard to work on anything else. CSI has first dibs on your week. People that are doing multimillion-dollar films aren't going to work around your schedule unless you're the first one on the call sheet. Most TV stars end up doing movies during the hiatus.
What would a dream role be for you?
At this point it would be a meaty role on a well-written film. I wouldn't even want to limit it by saying it would be one character. It would be something really fun. I would love to do a comedy.